ELEVATING
RARITY & VALUE
The International Antique Jewelers Association (IAJA) is a consortium of antique and period jewelers around the globe.
The IAJA is committed to safeguarding the integrity and ethical behavior of our industry. We seek to elevate the understanding and appreciation of the unique, irreplaceable treasures we collect and trade.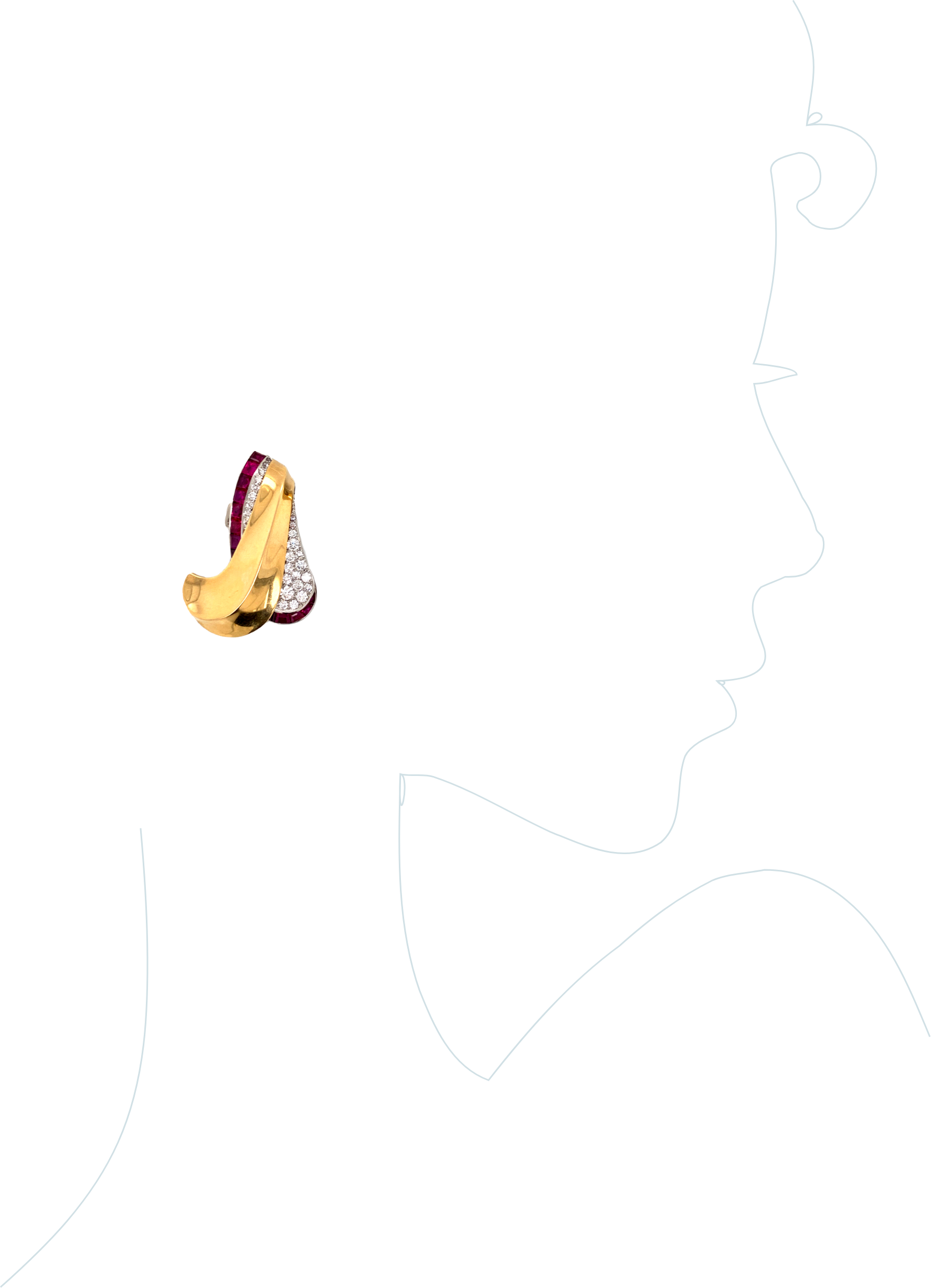 SIX FOUNDING FIRMS
ONE THOUSAND YEARS OF COMBINED HISTORY
Committed to upholding and propelling the heritage of antique jewelry into the 21st century.
J. & S.S. DeYoung, Inc.
J. & S.S. DeYoung, Inc, is an international family jewelry business established in Boston in 1835. Currently in its 185th year in the USA, J.&S.S. DeYoung, Inc. is one of the oldest estate jewelry companies in North America. Originally diamond cutters, the family's business goes back at least an additional 100 years to the diamond bourses of Holland. In the early 1900's the DeYoung family expanded their expertise to include fine period jewelry.
Sydney DeYoung, the 20th century DeYoung patriarch and a memorable personality, was one of the only experts of the era to understand the beauty and value of natural colored diamonds. During his lifetime he made two historic donations to the National Gem Collection: A fancy Vivid Pink diamond of 2.86 cts and the ultra-rare red diamond of 5.03 cts. Both stones are currently at the Smithsonian Institute in Washington, D.C.
Today J.&S.S. DeYoung is known throughout the world for rare and unusual jewels of all kinds. Led by DeYoung family members Janet and Alan Levy along with their daughter Lauren, the firm specializes in name brand jewels, rare color gemstones, natural pearls and natural color diamonds.
READ MORE
G. Torroni S.A.
G. Torroni S.A. was established in Geneva, Switzerland in 1985. Giuseppe Torroni, the founder of the company, began his career in the jewelry trade at the age of thirteen. He left Rome, the city of his birth, to attend the Scuola Orafa in Valencia Pô. Rome is also where, on his mother's side, the family had owned and operated a fine jewelry shop. Located on the famous Piazza di Spagna since 1884, they counted the Italian royal family as clients.
Graduate Orfèvrerie diploma in hand, in 1963 Giuseppe moved to Paris. Throughout the 1960's and 70's he advanced his knowledge of colored stones, often traveling to the Far East, Bangkok, and Sri Lanka. By the time he arrived in Geneva in the mid 1980's to open his office he was recognized by his peers as one of the world's foremost experts in rubies and sapphires.
Virginie Torroni joined her father in Geneva in 1998. Together, they have an international reputation as leading authorities on precious colored gemstones, diamonds, natural pearls, and antique jewelry.
Both Giuseppe and his daughter share a passionate interest in micromosaics. Often associated with "the Grand Tour" of the 19th century, many antique examples depict monuments and scenic ideals of Italy. In 2017, Virginie, her cousin and a gifted artist from Rome created VAMGARD. This collaboration produces extraordinary modern micromosiacs at the rate of a few labor intensive pieces per year.
The beginning of 2020 heralded yet another venture; the acquisition of René Boivin. Thomas and Oliver Levene-Torroni, Virginie's sons, will be busy organizing the extensive archive. In the business as of 2020, they join the 6th generation of this highly respected jewelry family.
READ MORE
PAUL FISHER
Paul Fisher, Inc. is a 6th generation international family jewelry business. Today based in New York City, the firm was first established in 1850 by Julius Fischer in Vienna, Austria. At the beginning, the firm specialized only in natural pearls, the rarest gemstone of that era. It was Robert Fischer, Julius' grandson, who in the 1920's broadened the company's expertise to include rare jewelry. Always maintaining a presence in Switzerland, Robert expanded to offices in London. In 1945 he moved his headquarters across the Atlantic to Rockefeller Center where the firm has been dealing in rare jewelry and stones for the past eight decades.
The New York years have been indelibly marked by Paul Fisher, Robert's son, and an icon in the jewelry industry. Committed to the future of his trade, Paul Fisher schooled over 40 international apprentices, educating them about vintage and antique jewelry. Through example he also taught how to do business correctly and ethically. Significantly, he apprenticed three founding IAJA members. In December 2019, Paul Fisher passed away at 92 years of age. He was, at this time, still working everyday from his London office. He is missed and remembered by many for his knowledge, wisdom, generosity, and stellar reputation.
With offices in New York, London and Geneva, also with representation in Paris and Hong Kong, Paul Fisher is a global business renowned for quality, honesty and loyalty. In 2018, the firm trademarked the term "Precious Art," a more accurate description for the unusual and one-of-a-kind pieces for which they are known. As purveyors of "Precious Art," they see their future as educators, helping consumers appreciate jewels of the past.
Today Paul Fisher, Inc is headed by Marianne Fisher, Paul's daughter. With the help of her brother John Fisher, she runs the overall business. This includes most European and Asian activity, searching the world over for beautiful jewelry as well as continuing her father's legacy.
Tibor Ullmann, once an apprentice, is the managing director of the New York Rockefeller Center office. He is also an active buyer and seller.
Christine Fisher, John's daughter and the 6th generation of the Fisher family firm, joined Paul Fisher in 2017. She handles all social media and is involved with buying and selling within the trade.
Office staff also includes Barbara Ryan, Donna Tee and in-house CPA Susan Lewkowitz. They manage everyday business administration as well as sales.
READ MORE
Palais Royal
Palais Royal, established in 1996, is specialized in the acquisition of antique jewels and works of art, focusing on Cartier's creations. The company is led by Tom Korpershoek, a second generation diamond dealer, and Gilles Zalulyan, a third-generation art dealer. Palais Royal has always been committed to offering a wide range of pieces selected for their authenticity, beauty and creativity. With offices in Paris, Hong Kong and Amsterdam. their extensive collection consists of primarily European pieces dating from the 18th century to the 21st century, made by the major jewellery houses including Cartier, Van Cleef & Arpels, Boucheron, Mauboussin, Bulgari, Chaumet, Marchak, Faberge and Tiffany.
READ MORE
Ernst Färber Munich
Dominik Biehler is the owner of Ernst Färber Munich and the latest link in his family's long and distinguished heritage within the jewellery business. He is an expert, specializing in diamonds, mainly the larger ones, fine gemstones and natural pearls, as well as period and vintage jewellery. The first licence was issued in 1692 by the magistrate of Munich. thus a family business was born, through which 10 generations of gold- and silversmiths, jewellers, diamond and pearl merchants worked on Munich's Marienplatz. In 1808 Anton Weishaupt was appointed by King Maximilian and made his contribution to the treasure of the Wittelsbach royal family. The marriage of the Weishaupt and Neresheimer families completed the professional scenario. August Neresheimer came from a family business spanning three generations, focused on pearls from the rivers of Bavaria. He had offices in Munich, Paris, Zurich and Amsterdam, was a specialist in oriental pearls and at the same time De Beers sightholder as early as the end of the 19th century. the Bavarian King requested him to restructure the famous Schatzkammer in Munich.
Neresheimer's daughter Johanna Biehler, herself a goldsmith, managed Weishaupt on a retail level, while Ernst Färber ran the wholesale operation from Berlin. In 1932 Färber founded his own company, which was later sold, in 1961, to Rudolf Biehler, owner of Weishaupt at that time.
Nowadays, the Biehler companies support their customers throughout the world, among them Ernst Färber Munich and Lucas Rarities Ltd. in London. It seems the Biehlers, like their ancestors, have no choice but to embrace their passion for that metier, of worldwide business with beautiful and rare things.
READ MORE
Hancocks & Co. Ltd
Hancocks & Co. Ltd was founded in 1849 in London. Hancocks is known for designing and creating the Victoria Cross and continues to make the cross to this day. Hancocks started attending exhibitions in 1851 at the London Great Exhibition, the 1855 Paris Exhibition followed where they displayed the Hope Diamond. Many further exhibitions and commissions followed including the creation of the Devonshire Jewels. For over 170 years Hancocks continues to handle rare diamonds, coloured stones and fine rare Antique & Vintage jewels. Hancocks today is family owned, led by Stephen, Janie, Guy and Amy Burton.
READ MORE
A GLOBAL PLATFORM, CONNECTING OUR INDUSTRY
Our platform breaks down the barriers of traditional trade shows and connects leading dealers to trade professionals.