By Olivier Bachet
This article was born from a purchase. One day, my Partner came back from the USA with a beautiful object in his pocket: A gold Cartier cigarette case adorned on both sides with extraordinary Persian hunting scenes, probably inspired by a page of a Persian manuscript, and made in delicate mother-of-pearl and hardstone inlays by Wladimir Makowsky, the master of jewelry marquetry of the Art Deco period. This box was signed "Cartier Paris Londres New York", but it also bore a mysterious mention: "incrustations de Linzeler Marchak" (inlays by Linzeler Marchak) (Fig. 1 and Fig. 2). It was curious, to say the least, to find a double signature on an Art Deco box. To my knowledge, Cartier and Linzeler-Marchak did not work together. Another enigma was then added to the first. I knew the jeweler Linzeler more for goldsmith's pieces rather than for jewelry and Marchak more for his post-war creations and, in particular, his big "cocktail" rings rather than his Art Deco creations, but I had only very rarely seen the association of the two names on a pièce. And suddenly, I remembered that most of the silver pieces made by Cartier in the 1930s bore the maker's mark of Robert Linzeler. There were a lot of such pieces, because if, for the common people, Cartier is a jeweler above everything else, a very important part of the sales during the Art Deco period was represented by silverware, in particular, table silver, household silver, centerpieces, torches, etc. (Fig. 2). At the time, I was doing research for the book I was writing with Alain Cartier, Cartier: Exceptional Objects. It was therefore time to put a little order in all this to see more clearly and to understand the relationship between three famous names in Parisian jewelry: Linzeler, Marchak, and Cartier.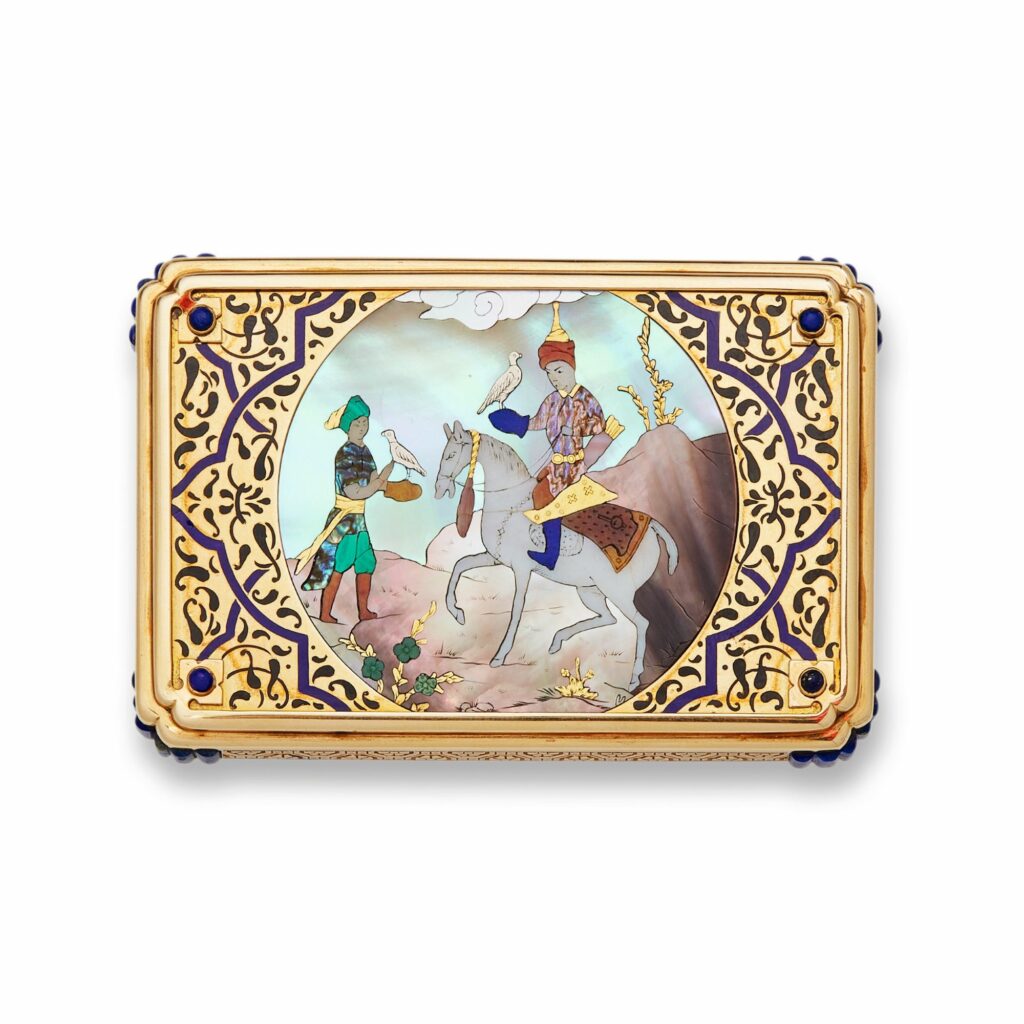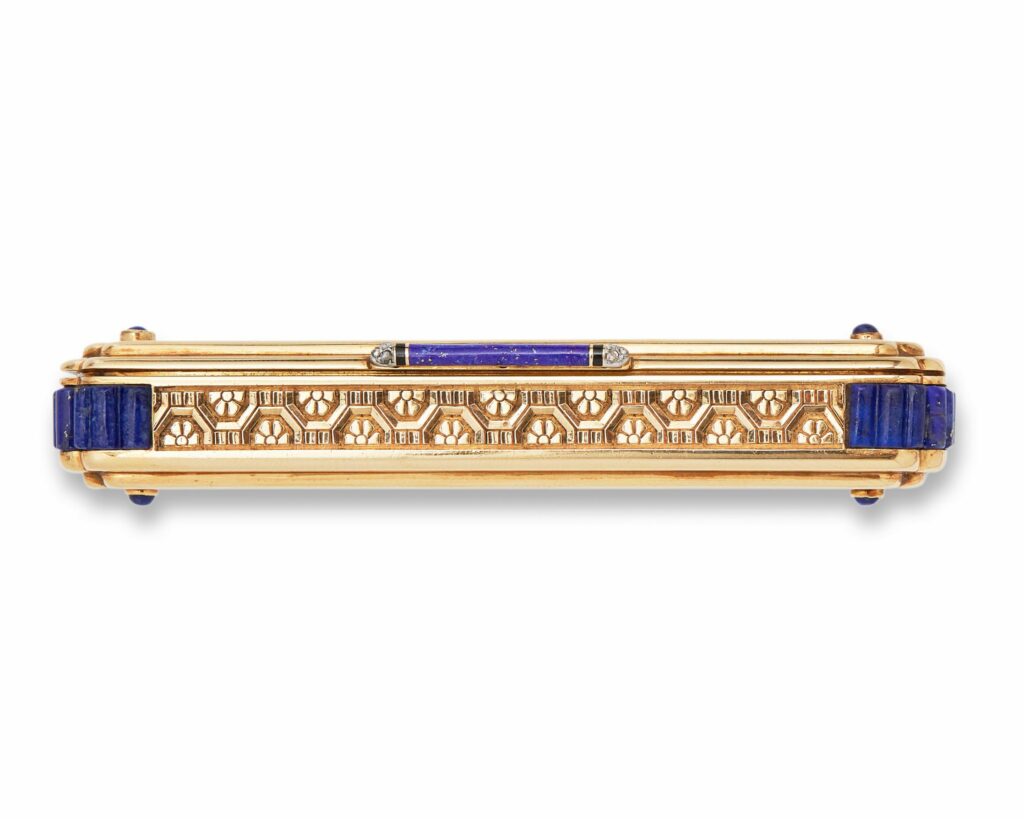 Robert Linzeler was born on March 9, 1872. He descended from a dynasty of jewelers-goldsmiths who had been settled in Paris since 1833. In 1897 he moved to 68 rue de Turbigo, when he bought the workshop of Louis Leroy. By the same occasion, he registered his hallmark of master goldsmith on April 14, 1897. It consisted of the two letters R and L surmounted by a royal crown (see maker's marks below). As tradition among the French jewelers, this hallmark takes the symbol of the hallmark of its predecessor, i.e. a royal crown (see maker's marks below). One could believe considering the name of Leroy ("the king" in French) that this symbol was chosen by the latter because in general the symbols were chosen according to puns referring to the patronymic of the manufacturer, but in reality, this symbol was that of Leroy's predecessor, Jules Piault, a goldsmith who specialized in the manufacture of knives whose workshop in the rue de Turbigo had been bought by Leroy in 1886 (Fig. 3) (see maker's marks below).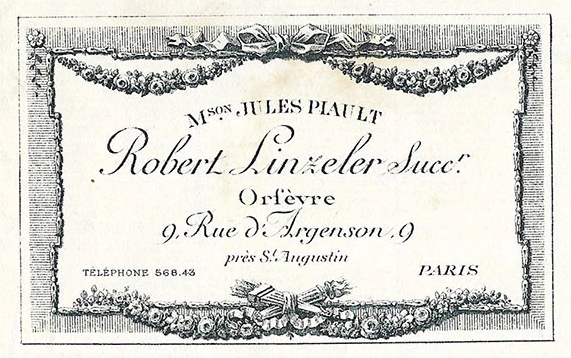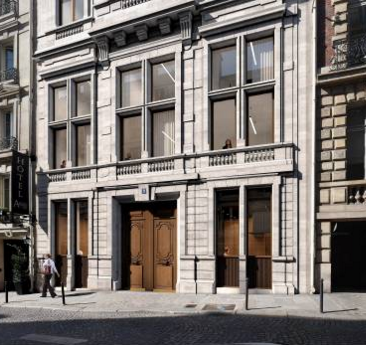 Business was flourishing because in April 1903, Robert Linzeler left rue de Turbigo and acquired a 480 m2 mansion located on rue d'Argenson in the luxurious 8th arrondissement of Paris to set up both his workshop and a showroom to receive private customers (Fig. 4). This period before the First World War was a fertile one. The genius Paul Iribe, who also had Cartier as a client and for whom he made silverware, designed jewelry for Linzeler (Fig. 5), as Hans Nadelhoffer points out in his book, Cartier Jewelry Extraordinary. He was, therefore, as often was at the time, both a manufacturer for others and a retailer for himself. After the Great War in December 1919, the company was renamed ROBERT LINZELER-ARGENSON S.A. This change of name was accompanied by the installation of a magnificent store decorated by Robert Linzeler's friends, Süe and Mare, who were known for their Art Deco decoration (Fig. 6 and 7). Unfortunately, business was poor. It should not be forgotten that the aftermath of war is a period of crisis that makes business difficult. This is when the Marchak brothers step in.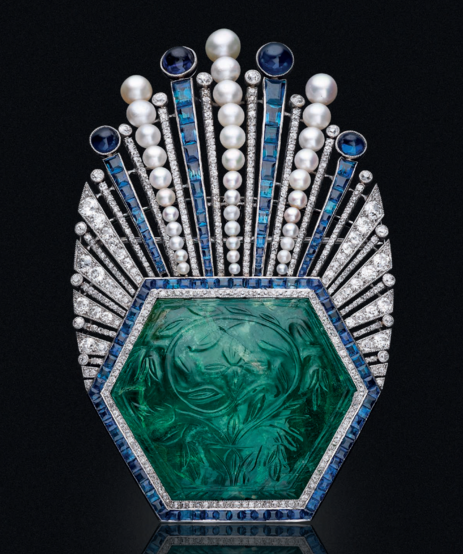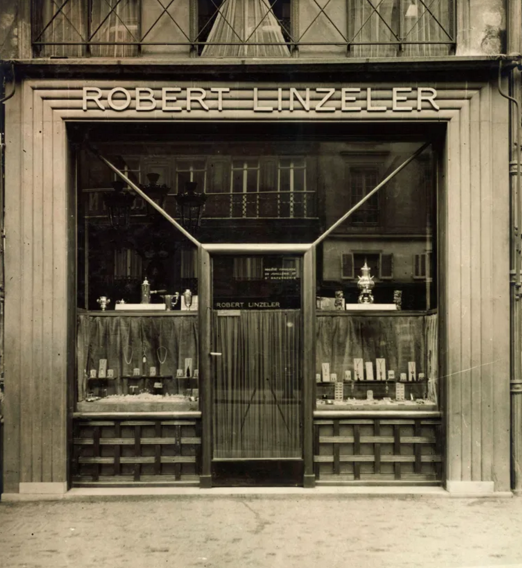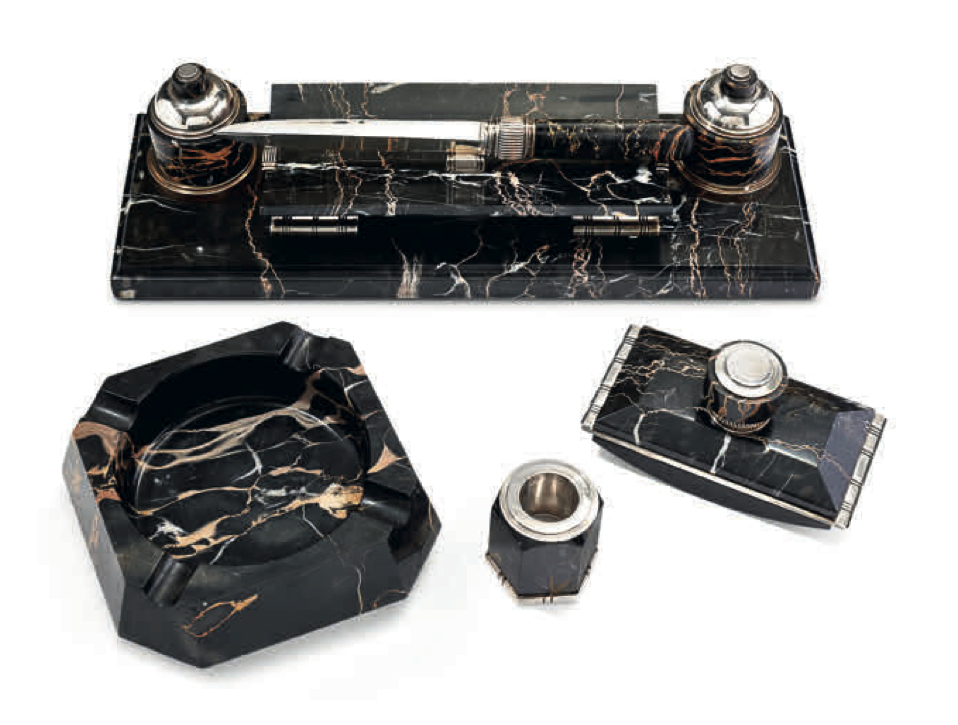 The brothers Salomon and Alexandre Marchak, born in Kiev in 1884 and 1892, respectively, were the sons of Joseph Marchak, nicknamed the "Cartier of Kiev". He was a jeweler and goldsmith whose high-quality production made the reputation of the company. In 1922, the Marchak brothers entered the capital of Robert Linzeler, and the company became LINZELER-MARCHAK (Fig. 8). They signed the pieces accordingly, and it was still under this name that they received a Grand Prix at the 1925 Exposition Internationale des Arts Décoratifs et Industriels Modernes. The company LINZELER-MARCHAK was changed to the A. MARCHAK (Société Française de joaillerie et d'orfèvrerie A. Marchak) in December 1927. This period corresponds, I think, to the intervention of Cartier in the Linzeler case but only for the part regarding the mansion of the rue d'Argenson, because, let's not forget, Linzeler owned this mansion and the store at 4 rue de la Paix. I do not know whether Cartier had entered Linzeler's capital at the end of the 1920's, but this hypothesis is probable since in 1932, René Révillon, Louis Cartier's son-in-law, proposed to increase the company's capital and give part of it in shares to Robert Linzeler in exchange for the sale of the business and the private mansion on rue d'Argenson. The remaining shares were bought by Cartier-Paris and especially by Cartier-New York, which became the majority shareholder. This date also corresponds to the end of the association between Robert Linzeler and the Marchak brothers. It seems, therefore, that at this date, Cartier took total possession of rue d'Argenson and the Marchak brothers of the store on rue de la Paix.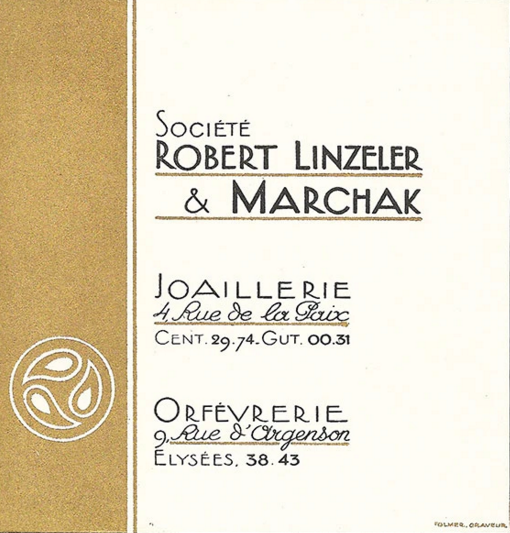 The Linzeler-Marchak company was definitively dissolved on June 10, 1936. Finally, Robert Linzeler died on January 25, 1941.
Thus, from 1932 onwards, the Robert Linzeler workshop at 9 rue d'Argenson produced many silver pieces for Cartier, its new owner. The workshop became, in a way, the workshop of the House specializing in the manufacture of silverware, especially for Cartier-New York, the owner of most of the company's capital. This explains why many pieces bear the hallmark of Robert Linzeler, not in a lozange shape, but in a shell shape, meaning that the piece is only intended for export (see maker's marks below) as is the case on this extraordinary pair of gold, silver, lacquer and glass Cartier candelabra that I was lucky enough to buy. These are now in the Lee Siegelson collection in New York (Fig. 9). It is worth noting that it was in this vast mansion that Cartier would install the Ploujavy workshop in the 1930s, another manufacturing workshop specialized in the making of silver and lacquer objects such as cigarette boxes and vanity cases (Fig. 10).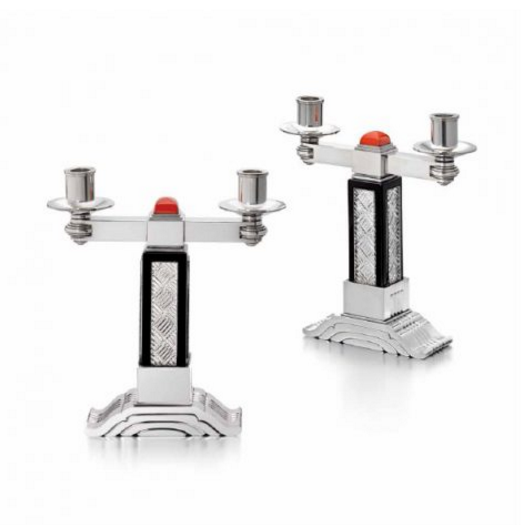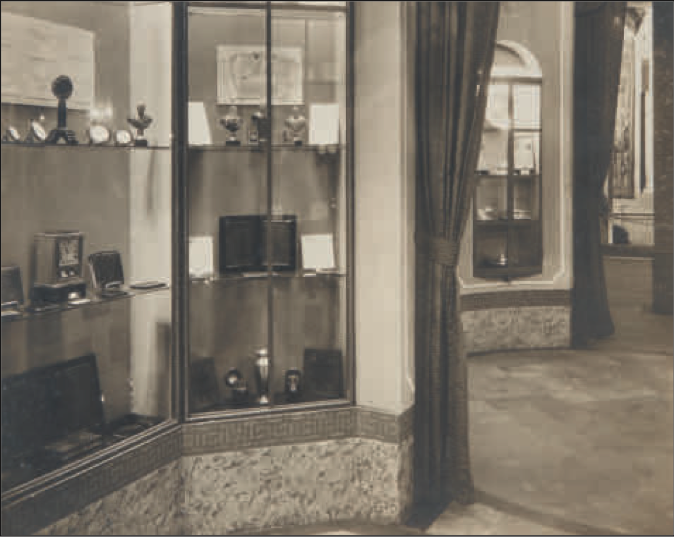 Robert Linzeler's hallmark was definitively crossed out in 1949. On July 23rd of that year, the LINZELER-ARGENSON company became the CARDEL company by contraction of the names Cartier and Claudel. This was in reference to Marion, the only daughter of Pierre Cartier, the owner of Cartier-New York. She was born Cartier and became Claudel following her marriage to Pierre Claudel (son of the writer Paul Claudel). Linzeler's crown was preserved as the symbol on the new maker's mark (please see maker's marks below). Finally, to answer the first riddle, why is there a "Linzeler-Marchak" signature on a Cartier cigarette case? I see only one hypothesis: The box was born Cartier. With its frieze of geometric motifs engraved on the edges without enamel, its thumbpiece, and its hardstone corners, it belonged to the series of "Chinese" cases. They were relatively little elaborate cases whose two faces were probably decorated with burgauté lacquer in the image of another specimen of 1930 (Fig. 11). Was the box damaged, or did the customer want a box with a more elaborate decoration, the mystery remains. However, it passed around 1925, under unknown circumstances, into the hands of Linzeler-Marchak, located at 4 rue de la Paix opposite the Cartier store. It was then transformed by adding an enameled surround and two magnificent Makowsky miniatures and was signed with the mention "incrustations de Linzerler-Marchak" (Inlays by Linzeler-Marchak), but the Cartier signature was not removed. The history of this case clearly illustrates the complexity of the relationship between Parisian jewellers and goldsmiths in the first third of the 20th century, where, in certain circumstances, people did not hesitate to buy back objects of competitors, add their own signature, and sell the items on their own behalf.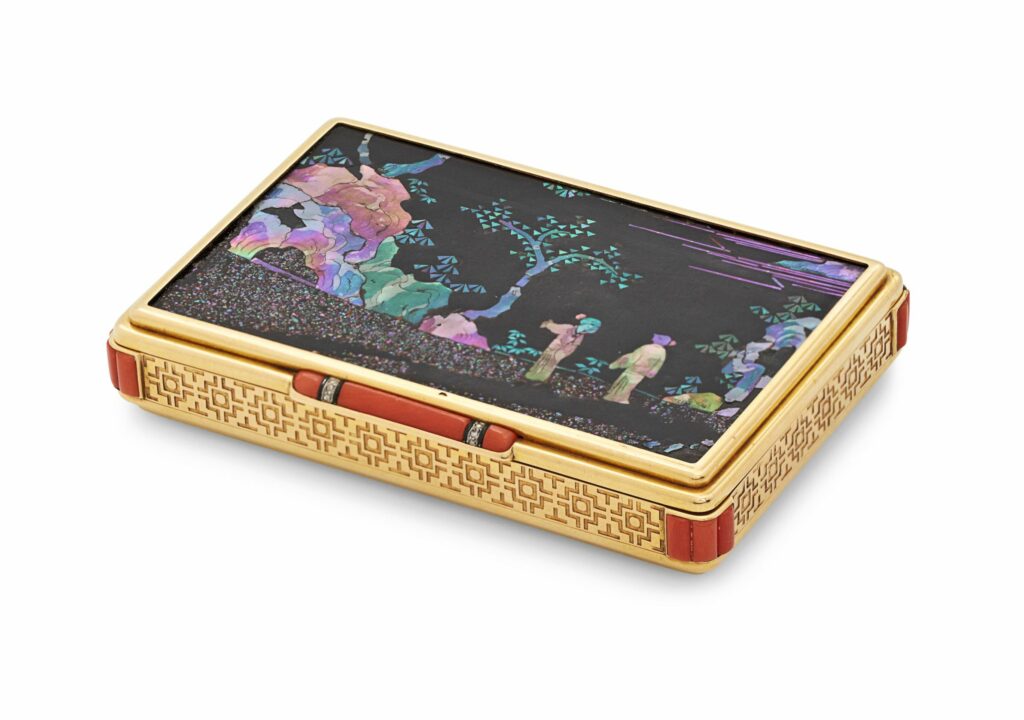 Maker's Marks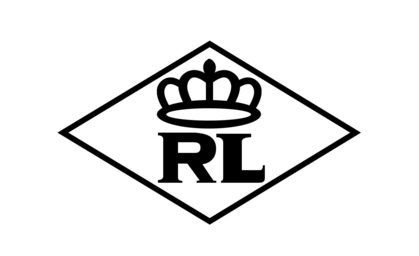 LINZELER, Robert
Specialty : Silversmith, jeweler
Maker's mark : Symbol : A crown
Maker's mark : Letters : R.L
Address : 68 rue de Turbigo, then 9 rue d'Argenson and 4 rue de la Paix, Paris
Registration date : 14/04/1897
Deregistartion date : 1949
---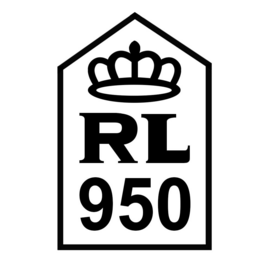 Maker's mark of Robert Linzeler stamped on the pieces intended for export. the number 950 means that there are 950 parts of pure silver in weight for 1000 parts of alloy.
---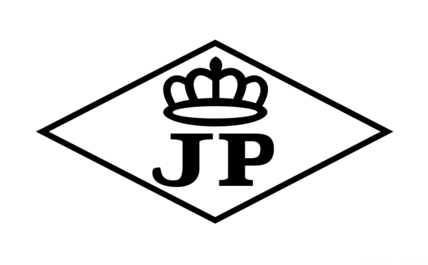 PIAULT, Jules
Specialty : Silversmith
Maker's mark : Symbol : A crown
Maker's mark : Letters : J.P.
Address : 68 rue de Turbigo, Paris
Registration date : 1856
Deregistartion date : 1887
---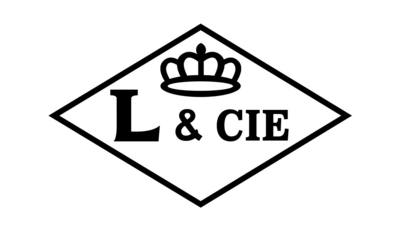 LEROY, Louis et Cie
Specialty : Silversmith
Maker's mark : Symbol : A crown
Maker's mark : Letters : L et Cie (the distribution of the letters in the punch is hypothetical)
Address : 68 rue de Turbigo, Paris
Registration date : 15/11/1886
Deregistartion date : 04/05/1897
---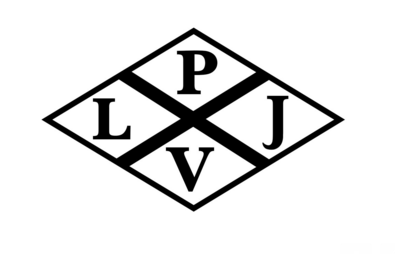 PLOUJAVY, Auguste
Specialty : Silversmith, jeweler
Maker's mark : Symbol : Two crossed lines
Maker's mark : Letters : P.L.J.V.
Address : 66 rue de de La Rochefoucault, then 9 rue d'Argenson, Paris
Registration date : 08/08/1929
Deregistartion date : ?
---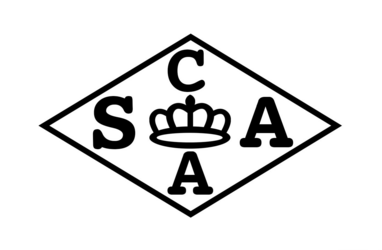 CARDEL
Specialty : Silversmith
Maker's mark : Symbol : A crown
Maker's mark : Letters : S.A.C.A.
Address : 9 rue d'Argenson, Paris
Registration date : 19/09/1949
Deregistartion date : ?
Bibliography
O. BACHET, A. CARTIER, Cartier, Exceptional Objects, Palais Royal 2019. M. DE CERVAL, Marchak, éd. du Regard, Paris, 2006. Articles on Marchak and Linzeler in J. J. RICHARD, BIJOUX ET PIERRES PRECIEUSES, Blog, August 2017, March 2018