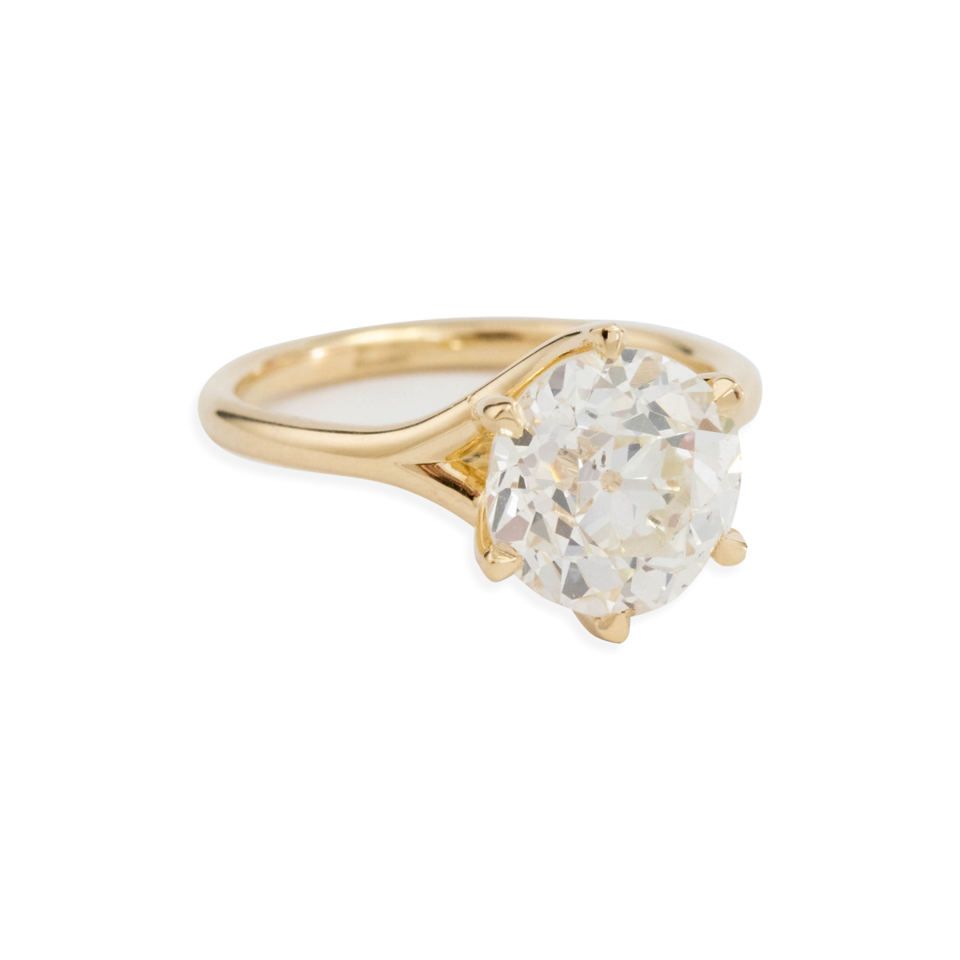 For those who love reading Jane Austen and sipping tea from a china cup, a vintage engagement ring may be the right choice. From the romance of the Victorian era, the elegance of Edwardian jewels and the high voltage glamour of Art Deco, there are unique and beautiful choices that will suit any taste.
"I've seen a massive resurgence of interest in vintage diamond engagement rings over the past ten or 15 years," reports Los Angeles-based Grace Lavarro, Jewels by Grace. "People are not always looking for big and fancy, now they want more charm and personality. They also ask a lot of questions about the history of the ring. This generation is very excited about history."
People are also captivated by the uniqueness of vintage engagement rings, which plays into the desire for personalization that has been gaining momentum over the past several years.
"There is a migration by brides to the concept of having an engagement ring that is rare and unique to associate with their relationship and the rarity and uniqueness of their commitment," comments Lauren Levy, president Lauren DeYoung Jewelry, Inc. "It's a concept that resonates with people right now and vintage engagement rings fit into that idea."
Old Cut Diamonds
While settings in antique and vintage engagement rings are certainly a draw for their beautiful styling, old cut diamonds are the main attraction for couples looking for something different and interesting, says Guy Burton, director, Hancocks London. "Our specialty is antique and vintage stones, which we then make into one-of-kind rings," London-based Burton explains. "We really showcase the antique cuts. They're more unique and beautiful and people are looking for unique. A few years ago, people didn't know the difference between modern and vintage cut diamonds. Now people know about old cuts and they are fascinated by these hand cut stones. You really won't find two alike."
Old cut diamonds do have a special charm all their own. Unlike the precision angles found in modern cut stones, old cut diamonds, because they were cut by hand, are often slightly imprecise, which gives each stone its own special character and personality.
Burton suggests having a Gemological Institute of America (GIA) report for any vintage or antique diamonds so you can sell with transparency. Lavarro also finds that her clients want a GIA report with their stone, even if it is a low color. "My brides don't care about the color of the diamond. They will go with a lower color, bigger stone to get a better price," she says.
Sustainable Engagement Rings
People are much more environmentally conscious today and couples look for engagement rings that are going to show their love for one another as well as their love for mother earth. Vintage engagement rings are an attractive choice because they do no harm, nothing new needs to pulled out of the ground to make these pieces.
"Couples are sourcing reclaimed diamonds and recycled pieces," says Levy. "People want to know what the environmental impact is and they want to reduce the negative impact on the environment. People are asking questions before making an investment. They ask about lab grown diamonds and their impact on the environment too."
Lavarro also finds that sustainability is an important factor for couples who are selecting a vintage engagement ring. "People are looking for green choices and vintage is the height of green."
Be Platinum or Go Gold?
For the past couple of decades platinum has been the popular choice for bridal, but now there is a renewed interest in yellow gold.
"Yellow gold is most popular right now," observes Burton. "Yellow gold is seen as more unique and different since platinum has been used a lot for many years. With gold there is a good contrast between the stone and the metal."
Lavarro has noticed an uptick in interest in Victorian rings. "Art Deco was the king of eras, but now with the return of yellow gold, the Victorian era — especially cluster rings — is gaining popularity."
On the other hand, Levy finds that platinum continues to do well, "We always have consistent requests for Art Deco rings. They are very wearable because the platinum settings are strong, but there is a resurgence of interest in yellow gold."
Fall In Love With Color
Some brides are looking for vintage rings with a colored gemstone center as an alternative look to the more traditional diamond engagement ring.
"Some people start by wanting a diamond, then they fall in love with color," explains Levy. "Ruby and sapphire are the most requested stone. They are durable and will go with everything. The main barrier to color for most people is that it won't go with their wardrobe."
Sapphires, ruby and spinel are popular choices for brides who visit Lavarro, who notes a new trend over the past couple of years, "Women want a diamond solitaire in a gold setting and then they pair it with an eternity band. They are going all out on the band and it may have color."
An engagement ring and wedding band are two pieces of jewelry that will get a lot of wear, Levy offers the following advice when selecting these rings, "Put thought into the jewelry," she concludes.  "You will wear your wedding dress for one day, but your engagement ring is a special piece of jewelry that will last a lifetime."
Featured image (top of page): Old mine diamond set in rose gold and platinum. Photo: Hancocks London.
By Amber Michelle