Stack of three gold and diamond necklaces with a triangle motif that Marina B. favored. The necklaces have a spring closure and may be worn singly, two or three at a time. Image courtesy Marina B.
Her style was innovative and bold, with jewelry pieces that fit a woman's evolving lifestyle — that is the design DNA of Marina B., whose creations were the epitome of 1980s opulence.
"Marina B. is an incredible icon," says Guy Bedarida, creative director of the firm. "Her entire story is a beautiful adventure. It is the story of woman empowerment."
Born into the Italian Bulgari jewelry dynasty in 1930, Marina's father, Constantino, was the eldest son of Sotirious Bulgari, who founded his namesake silversmith firm in 1884. When his sons — Constantino and Giorgio — joined him in the business, jewelry was introduced.
How Marina B. Started
As a young child Marina was already showing an interest in art, design and math. She attended St. Mary's College in England and when she returned home, Marina began adding her design ideas to the family business going into the workshop and laying out stones for different pieces which ended up selling quite well.
In 1973, when Constantino passed away, Marina and her sister Anna took over the operation of Bulgari along with their cousins — Nicola, Gianni and Paolo. At the time Marina saw it as her opportunity to make her mark in the jewelry world. She was right, but it wouldn't happen in the family business. Anna was married and left the business, leaving Marina to deal with three cousins who tried to push her into administrative work in the accounting department.
By 1976 it was clear that Marina wanted more than what she was going to get in the family business, so she cut ties with the firm and struck out on her own. A very daring move at a time when the jewelry industry was dominated by men. A mere year later, Marina B. opened her first showroom in Geneva, which through the years led to boutiques in New York, Paris, Milan and Monte Carlo.
"Her brand quickly became one of the most famous in the world," comments Bedarida. "Marina B. jewelry is bold and colorful. She used black gold, which became a signature of her work. Her unthreaded beads were also unique to her. Marina was famous for her collars and chokers. She designed for women and she wanted to make jewelry that was easy to wear."
Jewelry That Does Double Duty
Determined to bring her designs to life, Marina made the decision to have her jewelry made in Paris because that's where all the finest jewelry of the day was being fabricated. By the end of the 1980s, Italy had become synonymous with the production of high quality jewelry, so Marina began to have some of her jewelry made in the Milan area. Two of her first collections were Onda and Pneu.
French for tire, Pneu was inspired by the oversized tires on an airplane. The collection was uniquely groundbreaking in that it was convertible — the earrings may be worn as studs or drops. But it didn't stop there, the earrings are also interchangeable allowing more options for wear, the wheel comes off and can be changed to another gemstone wheel.
Marina designed jewelry that was not only easy for women to wear, but the pieces were created for women to buy for themselves. Her business started at a time when women were entering the workforce at an unprecedented rate and the concept of a woman purchasing her own jewelry was a relatively novel idea. But as women entered the workforce and dressed for success, they also needed jewelry that they could easily buy and wear every day from the board room to cocktail hour.
One thing that can be a bit tricky is putting on and taking off a necklace or bracelet; clasps can sometimes be hard to use. To address this issue, Marina added springs to some of her pieces. This not only made the pieces easier to put on and take off, but it also made the jewelry sleeker with no clasps to interrupt the design.
"Marina made big chokers on a spring that could easily be divided into three," explains Bedarida. "It's very versatile. A woman can start with one during the day and then add more if she is going out."
The Marina B. Cut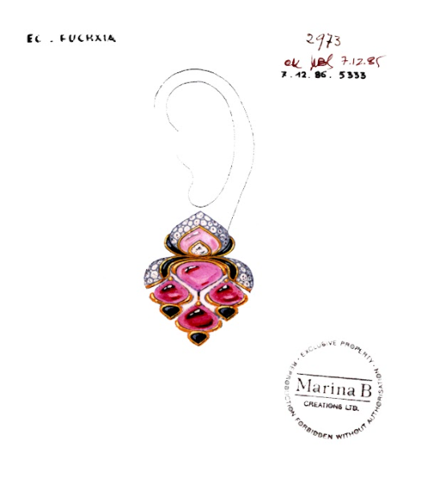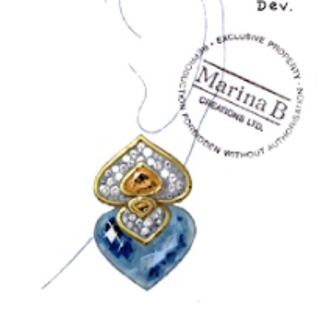 To fully create pieces the way she really wanted them to be, Marina developed her own colored gemstone cut known as the "chestnut", or Marina B. cut. Marina came up with a design for a gemstone shape that is a cross between a triangle and a pear, it's rounded on the bottom with a point on the top, a bit like an inverted heart with no cleavage. The shape became a signature motif for Marina B. and it shows up in her jewelry in gemstones and in the precious metals used in her creations.
"It's a very strong signature for her," comments Bedarida. "She took an oval cut that was not too elongated and turned it into the chestnut. It is a voluptuous, feminine shape."
The brand was extremely popular during the 1980s and 1990s , but as fashions changed, the brand languished a bit. Now it's set for a revival and according to Bedarida, there is big demand for Marina B. jewelry, especially vintage pieces, which he notes are hard to find.
"There is a big comeback of the 1980s," concludes Bedarida. "There is a return of jewelry, accessories, fashion and big shoulders from that era. Marina B. was forgotten for about 20 years, but there is always a return to good design, it is fashionable forever. Marina B.'s vintage pieces are especially in demand but they are hard to find because people are keeping her jewelry. We try to buy those pieces when we can so we can create a museum of Marina B. jewelry."
Marina B. is now retired and living in Rome, but her jewelry continues to resonate with a new generation of women who buy their own jewelry and make their own rules.
Authored by Amber Michelle