Colored diamonds, also known as fancy colors, are among the rarest and most valuable of all gemstones and they come in an endless kaleidoscope of divine colors. According to the Gemological Institute of America (GIA), only one in every 10,000 diamonds found has a fancy color. And of those even fewer are the vibrant colors that are most desired and of course the most pricey.
Up until the middle to late 1990s colored diamonds were shunted to the side and pretty much ignored. As the 1990s progressed colored diamonds began to appear at auction and their marketing machines put these superpowered gemstones into the spotlight. People began to take notice and colored diamonds started to gain in popularity as consumers began to understand more about their beauty, value and rarity. Today, colored diamonds at auction command prices that soar to breath-taking heights. To give you an idea of just how high prices can go, the Pink Star, a 59.60-carat vivid pink diamond sold at Sotheby's Geneva for $71 million in 2017. The year before that, the Oppenheimer Blue, a 14.62-carat vivid blue diamond sold at Christie's Geneva for $57.5 million.
How Diamonds Get Color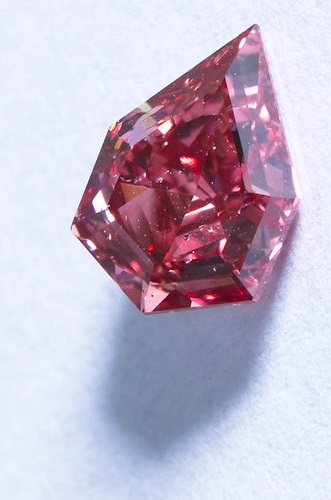 Let's take a look at how diamonds get their color. The colors in diamonds come about through trace elements when they are forming in the ground.
Yellow diamonds get their color from the presence of nitrogen.
Blue diamonds get their color from traces of boron.
Green diamonds get their color from natural radiation in the earth.
Pink and red diamonds are a bit of a mystery. Gemologists believe that they get their blushing shades from an anomaly in the internal structure of the gem as they are forming.
Many colored diamonds have modifying undertones to the stones, which shift the color and can change the value of the gem. For example, a diamond may be graded as purplish-pink. That means that the main body color of the stone is pink, but it has purple modifiers with pink the dominant color. It will look quite a bit different than an orangey-pink, which has an orange undertone to the pink. Sometimes the blend of colors in a colored diamond is more balanced and then it will be given a name such as blue-green. Modifying colors may also change the value of a colored diamond. The grade that a colored diamond receives from a gemological laboratory can mean a price difference of many thousands of dollars.
"The modifying undertone colors, such as brown in yellow or pink is usually not good, or gray in blue is not great, for example," explains Rima Farah, president Swissdiam New York LLC, a firm specializing in colored diamonds with offices in New York and Geneva. "You may get some green in a yellow diamond and people will like that neon color, or you may have some green in a blue. That is attractive and may add value. Some people want that pure color of one tone, but some don't. Most people also don't realize that when a color is a 'pure' shade it's not what you necessarily expect. There are times when an undertone can make a color muddy and we don't want that either. A modifying color may or may not add value, it's not a hard scientific fact."
Colored Diamond Grading
There is some important terminology to note when you are looking at colored diamonds. There are three factors for determining color:
Hue, which is the dominant color of the stone.
Tone is whether the color is light to dark.
Saturation of color which can be weak to strong.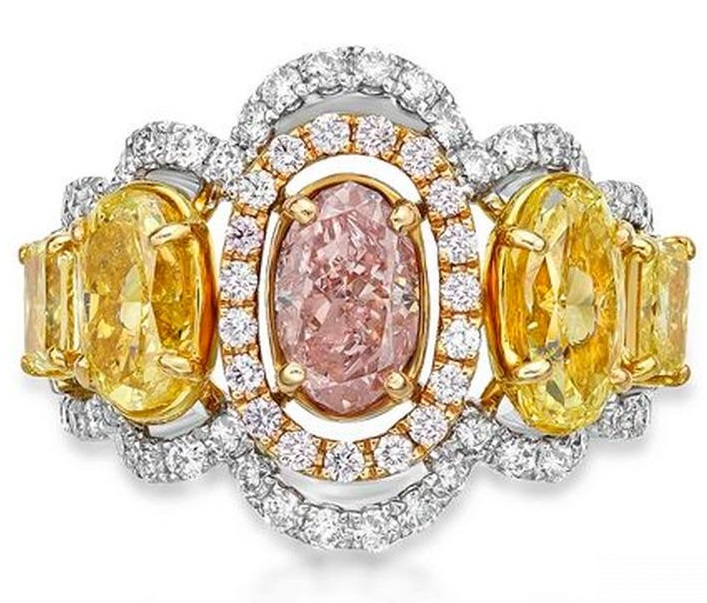 Next based on those three criteria, colored diamonds are once again divided into categories:
Fancy and Fancy Light: These stones are paler, softer shades of a color.
Fancy Vivid and Fancy Intense: These are the most coveted and desired because the color in the gem is balanced.
Fancy Deep: These diamonds are deeper in tone, but not too saturated with color.
Fancy Dark: These stones tend to have a dark body color and dark tone.
"These terms only define the color," comments Farah. "An untrained eye might not see that a light pink diamond is pink, but in a fancy pink, they can see the color. It's a matter of taste and whether or not someone wants more color, then they will like a vivid or intense color. When the color is too strong, the diamond loses sparkle and the color becomes dull."
The Cut Factor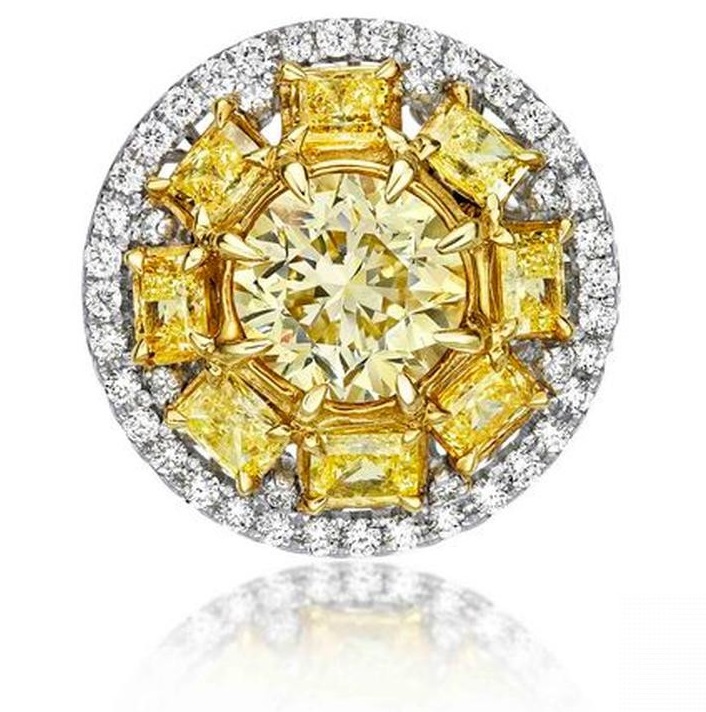 Fancy colored diamonds are often also fancy shapes (any shape other than round) because they are cut to bring out the maximum color in the stone.
"Cut has a lot of impact on a colored diamond," says Farah. "The cut determines whether or not the color is maximized. You can take a round colored diamond which may not have much color and turn it into a radiant or other fancy shape and that will increase the color."
Farah makes one last, but very important point about purchasing a colored diamond. She notes that when white diamonds have a particular grade many people believe that they look pretty much the same, which is why they are comfortable buying a white diamond sight unseen based on the gemological report. Colored diamonds are different because everybody perceives color differently and because there is so much variation from stone to stone due to modifying colors.
"You can have three colored diamonds with the same information on each grading report," concludes Farah. "But the stones are not the same. To the eye they will all look different, the value cannot be described by a piece of paper. You have to see the stone in person to really see it."
Featured image (top of page): Ring features a 3.02-carat, oval intense yellow-green center stone, with yellow and pink diamond accent stones set in 18-karat white gold, courtesy Swissdiam New York, LLC.
Authored by Amber Michelle