Culture, Art, Literature, Mozart, Jane Austen, Mary Shelley, Lord Byron, John Keats, Baroque, Rococo, French Revolution, Marie Antoinette, Napoleon Bonaparte, American Revolution, Regency England, Pompeii Excavation and Oversized Powdered Wigs all defined the Georgian era.
When: 1714-1837, the Georgian era covered most of the 1700s and the early years of the 1800s. The century is called the Georgian era because there were four King Georges (I-IV) during that time. King George IV died in 1830 and with no children as heirs to the title, his brother William IV ascended the throne. Most historians agree that the Georgian era ends when Victoria took over the throne in 1837, however some historians select 1830 as the end of the Georgian era as George IV was the last George of that time period. While much of Georgian jewelry is informed by British art and culture, the aesthetic was global.
Famous Makers: Jewelry was handcrafted during this time and with few exceptions there were generally no makers marks or gold marks used in this period.
Motifs: Early 1700s: Bows, Ribbons, Florals, Sprays of Foliage, Feathers, Crescent Moons, Crowns, Crosses, Hearts. Later 1700s: Arrows, Lyres, Intaglios, Geometric Forms, Pyramids, Papayrus Leaves, Roman and Greek Neoclassic Designs
The Look: Parures, Hair Ornaments, Girandole Earrings, Pendoloque Earrings, Closed Back Settings, Enameling, Subdued for Daytime, Diamonds for Nighttime
Materials: Table Cut, Rose Cut and Old Mine Diamonds, Ruby, Sapphire, Emerald, Garnet, Topaz, Coral, Shell, Agate, Chrysoberyl, Turquoise, Carnelian, Pearl, Ivory, Silver, Gold, Pinchbeck
The 1700s were a tumultuous and fast changing time. It was also an era that was guided by stringent rules of dress, but by the middle of the century those rules were relaxed. Surprisingly, fashion trends changed very rapidly — even monthly — during this century with Marie Antoinette and her friend the Duchess of Devonshire, Georgina Cavendish, two of the leading style icons of the era.
By mid-century, jewelry became more accessible to everyone, not just aristocracy. Better candles were developed in the 1700s that cast a brighter light and lasted longer which led to more parties and more demand for night time jewelry.
Important diamond discoveries in Brazil in the early 1700s and India's Golconda diamond mine made the gems abundant and they were the height of fashion for evening wear — the only time the Georgians considered it appropriate to wear the sparkling stones. Even then, diamonds were only worn to balls, receptions, at court or other formal events. Rose cut and old mine diamonds were everywhere. A diamond riviere necklace, sometimes called a "river of diamonds" or a "river of light", was introduced in the 1700s. These necklaces were made of silver collets with diamonds that were linked together. It was a very popular style and a style that remains popular today, although it is now sometimes referred to as a "tennis necklace".
Dog collars and chokers were a favorite length for necklaces in the early 1700s but those morphed into longer necklaces toward the end of the era as fashion changed and necklines lowered revealing more décolletage and leaving more area to show off a necklace.
Georgians also wore a lot of rings and they wore them on any finger. Bands set with gems either half way around or all the way around, were worn singly or stacked. Rings with a large center stone surrounded by a frame of diamonds was another important style. It's a look that remains popular today. On the wrists, it was stylish to wear a pair of bracelets.
One of the defining fashions of the 1700s were white powdered wigs, the bigger the better and the taller the more chic it was considered. Wigs were worn by people to convey rank, social status, or profession. These elaborate hairstyles were the perfect place to show off jewels. Aigrettes, bandeaus, coronets, diadems, hairpin/combs and tiaras glittered in towering tresses. The style came to an end with the introduction of a hair powder tax that was implemented to raise money to fight against Napoleon and his wars. The tax made powder very expensive and the popularity of wigs waned. Although wearing hair ornaments continued.
To go with the proportions of the wigs, oversized earrings were very fashionable in the 1700s. Girandole and pendoloque were the most fashion forward styles of the day and the precursor to modern day chandelier earrings. Girandole earrings have a large stud with a central motif that was often a bow with three pear-shaped gems dropping from the center and sides. Pendoloque earrings had a round or marquis-shaped stone at the top, a bow motif dropped from the top stone and then gems dropped down from there. These earrings tended to be quite heavy, so when they went out of fashion many were taken apart and were redesigned as pendant and earring sets.
Georgian jewelry was handcrafted and often showcased ornate metalwork. Repousse, a type of hammered metalwork was used freely. It is raised in relief from the inside back so that the design shows on the front. Cannetille, a type of intricate wirework was popular. Enamel was also an important element in jewelry making. Pinchbeck, a combination of copper and zinc, was a popular metal in some jewelry as well.
Diamond jewelry was frequently set in "silver backed gold" also known as "silver topped gold". Diamonds looked better set in a white metal, but silver tarnished and left marks on skin and clothing, so it was backed with gold. This process allowed the gold to touch the skin or clothing, so staining was avoided, while the silver optimized diamond sparkle.
Diamonds and sometimes colored gemstones were "foil-backed" or "foiled" in the Georgian era to make the diamonds brighter and to enhance the hue of colored gemstones. The process involves backing the stone with a very thin metallic, or non-metallic, sheet. Sometimes the foil was colored to amp-up the color of gems. Foil-backed gemstones are almost always in closed back settings to protect the foil from being damaged. A rather fragile process, foil-backing can be easily damaged by exposure to water.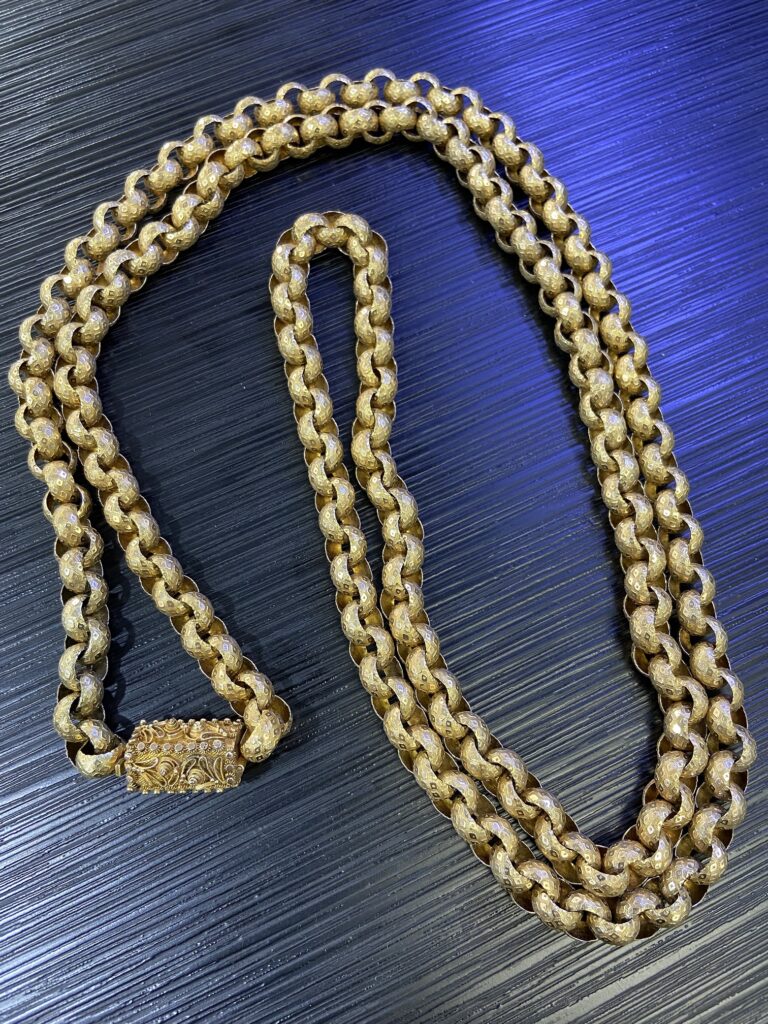 The Roman ruins of Pompeii were being excavated between 1706 and 1814. Treasures discovered in Pompeii influenced jewelry design during that time with Greek and Roman motifs — laurel, grape leaves and Greek keys — becoming popular, especially towards the end of the century.
One of the more collectible items of Georgian jewelry is Fer de Berlin, which translates to Berlin Iron. In 1804 Napoleon was ravaging Europe with war and countries needed money to stave off his attacks. Wealthy Germans gave their jewelry to the government to raise money in the fight against Napoleon. In exchange they were given Fer de Berlin — iron jewelry that was sand cast and lacquered black.
An important piece of day jewelry for Georgians was the chatelaine. A chatelaine was a decorative clasp with several long chains with hooks that held day-to-day items such as scissors, thimble, eyeglasses, keys, watches, seals and other household items. It was worn at the waist attached to a belt. Chatelaines could be quite ornate, made in gold and adorned with precious gems. Again as fashion changed, many chatelaines were taken apart.
The Georgian era ended when Queen Victoria took the throne and ushered in a new era of romance.
Featured image (top of page): Georgian era necklace features 35 old mine cut diamonds with a total weight of approximately 35-carats set in silver-topped yellow gold, courtesy Shalom Bronstein.
All of the jewelry showcased in this blog can be found on Jewelers Circle Pro.
Authored by Amber Michelle