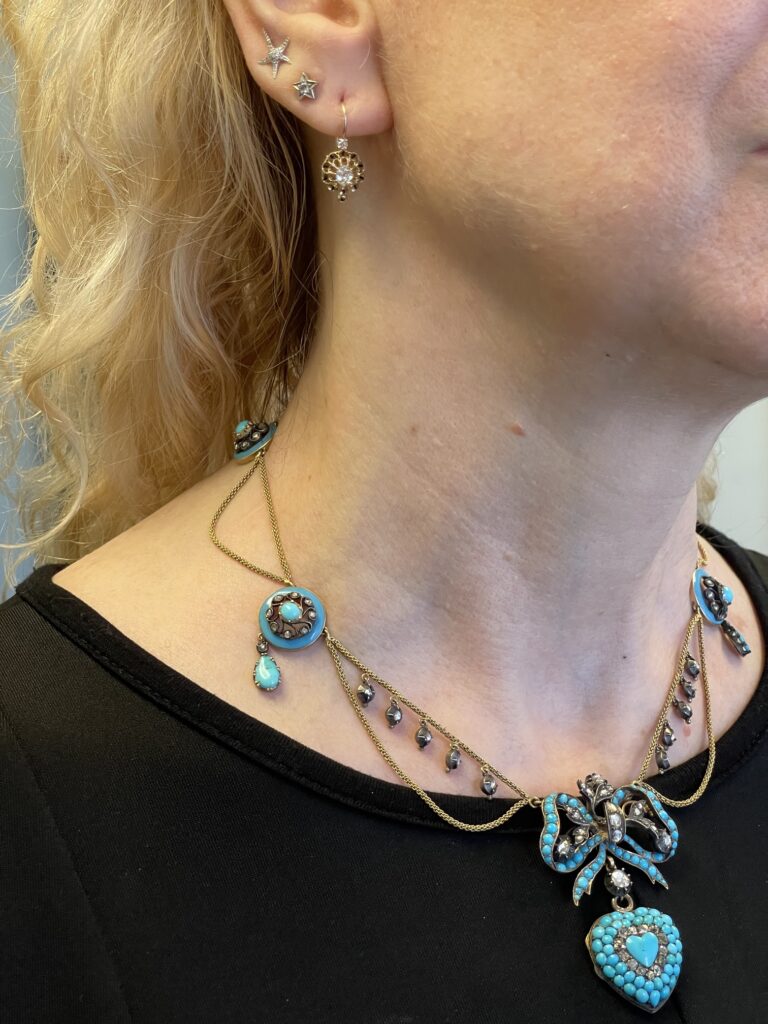 Georgian and Victorian jewelry comes from eras rich in history that give us a glimpse into the lives of those who lived during that time, how they dressed and the meaning behind the jewelry that they wore. Despite being a couple of hundred years or more later, a good deal of jewelry made during those times is available today and it's more wearable than you might think. To show us how to best wear antique jewelry with today's fashions and contemporary jewelry, we spoke to New York-based antique jewelry dealer, Dana Kiyomura, who founded Keyamour in 2015, a curated collection of period antique fine jewelry from the Georgian era to contemporary signed jewelry.
Kiyomura's first piece of advice when adorning yourself with antique jewelry is to have fun. "Purchase what speaks to you and your aesthetic," she advises. "Have fun and don't take it too seriously."
Some antique jewelry may seem overly elaborate for today's lifestyle. If you do happen to have an ornate piece, Kiyomura suggests keeping the focus on one piece. "If you have an elaborate necklace wear it with small cluster earrings or diamond solitaire studs," says Kiyomura, who found herself drawn to how jewelry and fashion intersect while she was earning a degree in history from the University of California, Berkeley. "If you're one of those cool girls, wear it with jeans."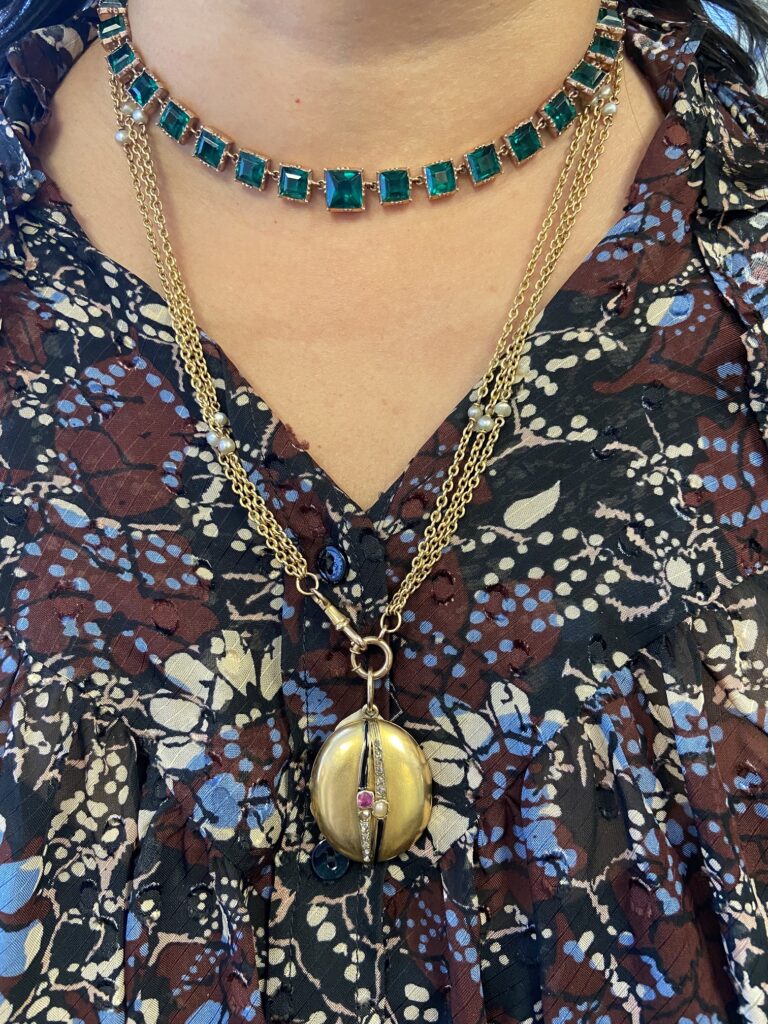 Like today, long gold chain necklaces were very fashionable in both the Georgian and Victorian eras. Many of these chains are surprisingly light and easy to wear. Make them modern by layering long necklaces together in varying lengths. Kiyomura recommends adding in pendants and lockets — contemporary or vintage — to further personalize your look. Want to keep it really simple? Knot the chain and wear it long and dangling.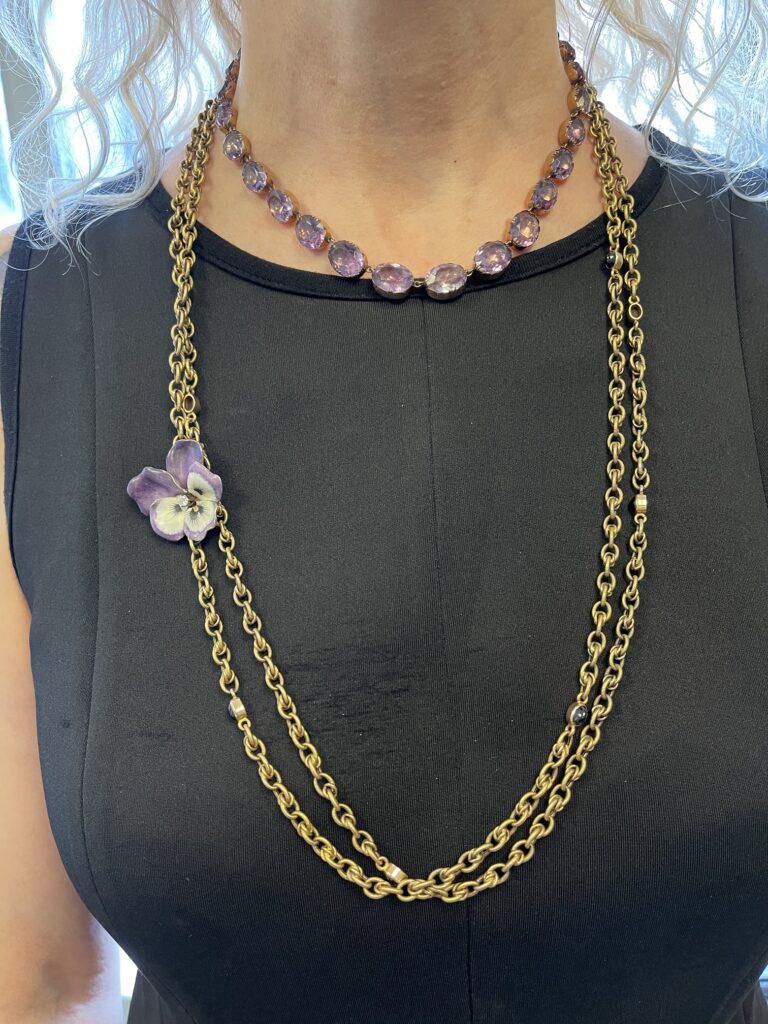 Another great way to wear a long chain according to Kiyomura is to double it and add a brooch by carefully sliding the pin of the clasp through the chain links. Wear the chain with the brooch on the side and you'll be the chicest person in the room. "It's more fun to wear the brooch on the side, then it becomes more than just a pendant. If you want to add more than one brooch, cluster them together on the chain," says Kiyomura, who was a buyer at CIRCA and the director of acquisitions at New York City-based vintage jewelry retailer Fred Leighton, prior to founding her company.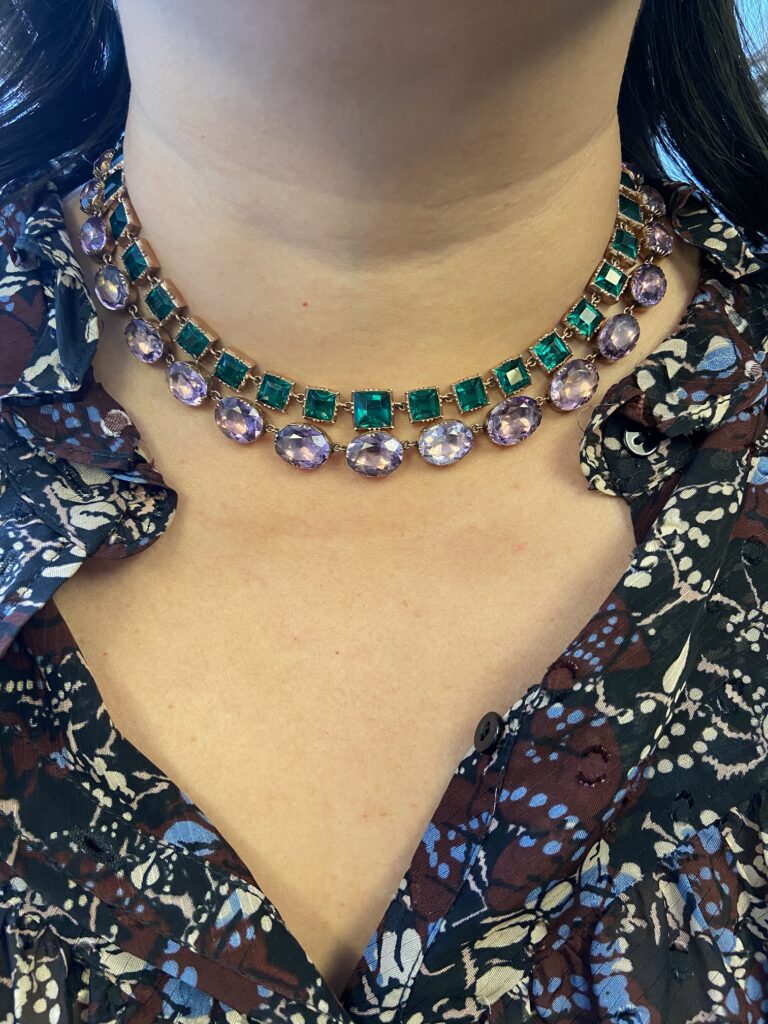 Colored gemstone necklaces were popular choices in Georgian and Victorian jewelry and there are many fabulous pieces to collect. You can of course, wear one, but if you're feeling a bit more daring, add a second necklace in another color. "All the colors were complimentary in that era," comments Kiyomura. "What's important is to match the hues and tones of the gems. Also, the length matters, the necklaces need to nest correctly."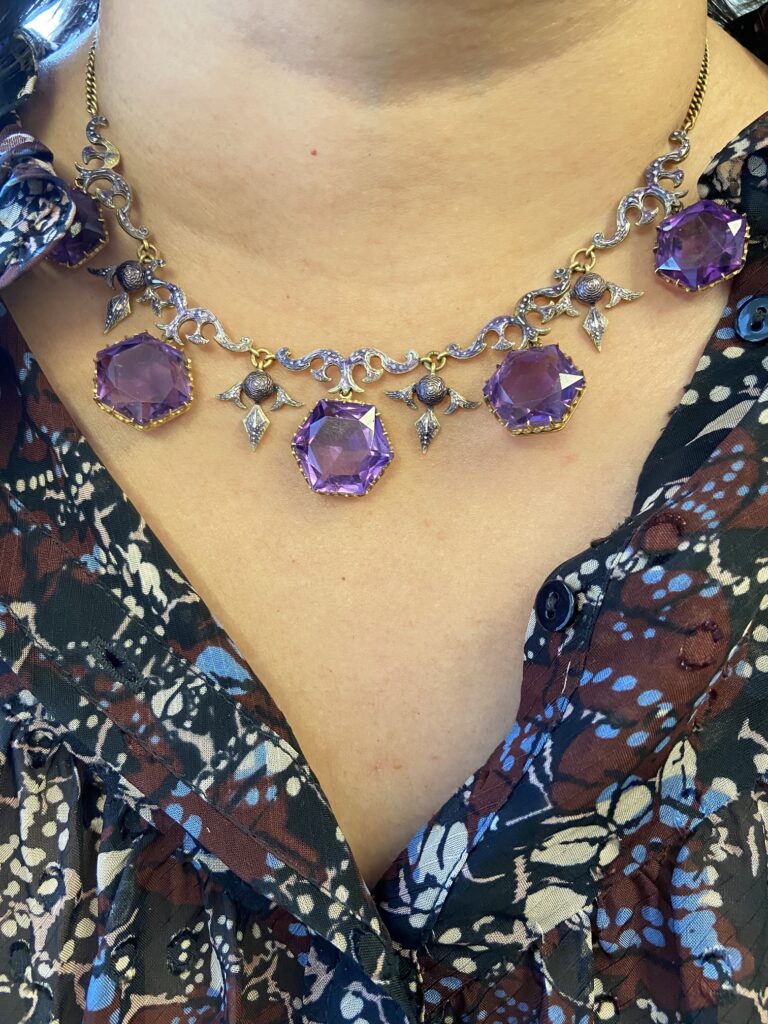 Chokers were also a popular necklace style during parts of the Georgian and Victorian eras. Wear them as is, or layer a choker with a long chain.
Many of us have a contemporary diamond solitaire necklace in our jewelry box and you may be wondering if it's okay to wear it with antique styles. "Layer it with chains, complement it with a short colored stone necklace, or wear it with great earrings," says Kiyomura, who spent three years working in the jewelry department at Christie's auction house in Los Angeles.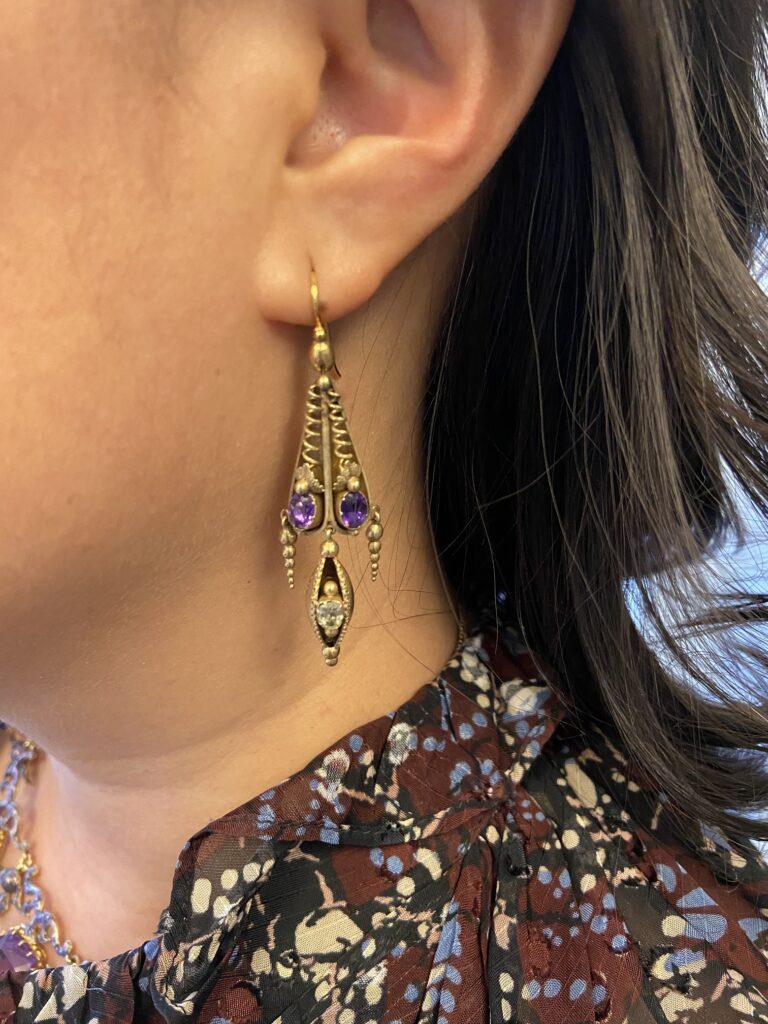 Earrings are a lovely way to draw attention to your face in a very stylish way. There are all kinds of antique earrings to choose from, many of which make a big statement. Some are long with lots of movement and are very dramatic. In keeping with her philosophy of having one piece of jewelry as your focal point, Kiyomura suggests wearing those earrings with no necklace, but instead wear a big bracelet and rings to balance the earrings and to avoid looking overdone. "Victorian earrings have everything," notes Kiyomura. "They have length, color, movement and shape."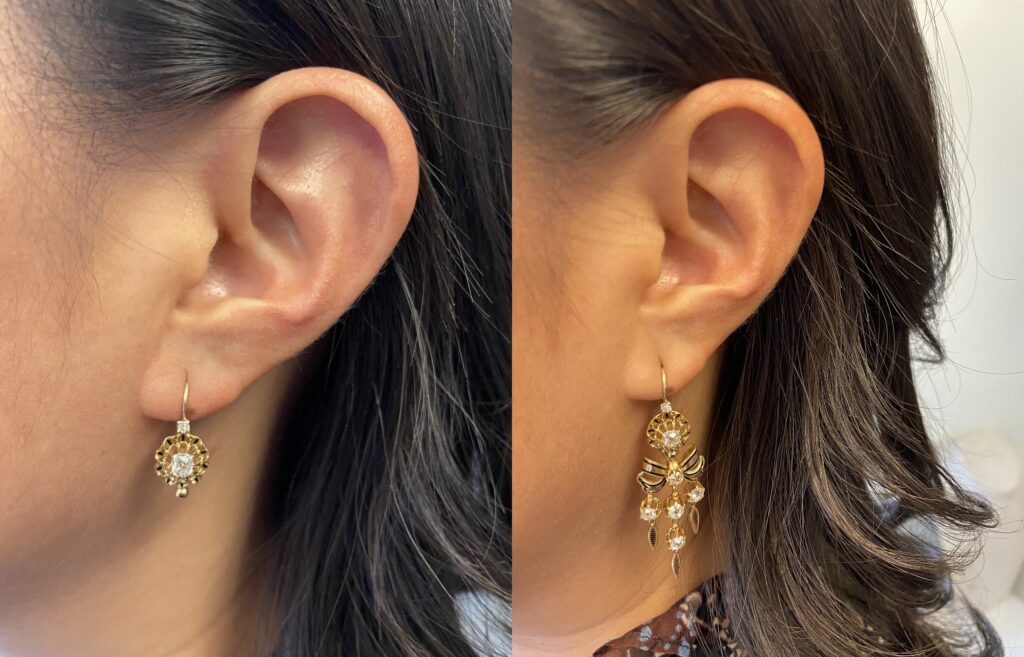 Another popular earring style in antique jewelry is the day/night earring. As the name suggests these earrings do double duty. The bottom will detach leaving a smaller top that is the perfect adornment for day, re-attach the lower half for instant night time glam.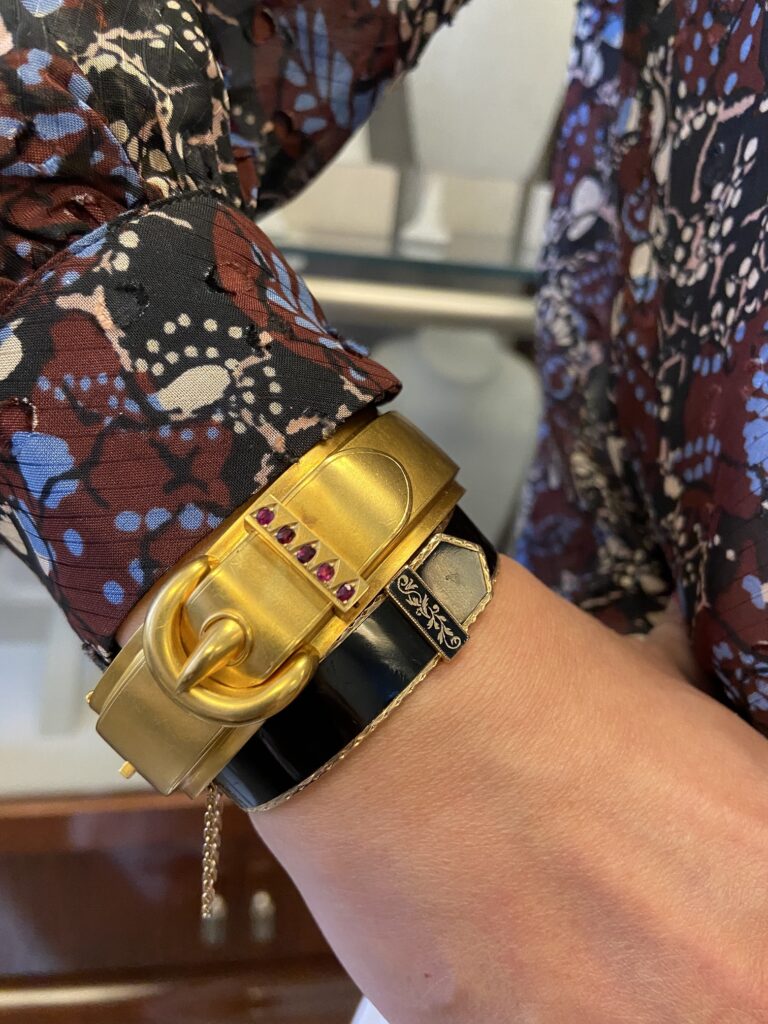 It's always fun to have a wrist party and Kiyomura has a couple of pointers for wearing bracelets. "A lot of people wear big watches. I like to wear bracelets on the other wrist to avoid damaging either the watch or the bracelet. You can wear a thin chain next to a watch. If you want to stack bracelets, stick to a theme, such as bracelets that have a buckle motif."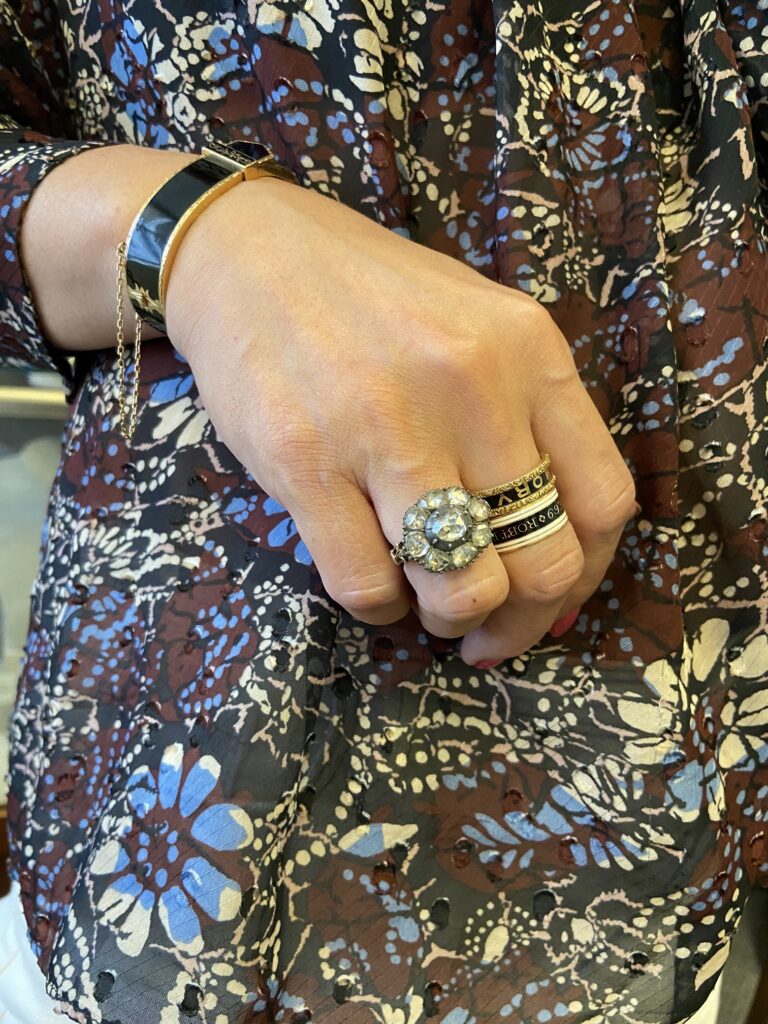 Rings are one of the most worn pieces of jewelry and they were beloved by Georgians and Victorians. Rings can be worn on any finger and Kiyomura notes that a big cluster ring is a great focal point. She also notes that stacking rings from one time period is a good way to wear multiple rings. Engagement rings have their own way of being worn. Kiyomura explains that many antique rings are large with different shapes and a wedding band doesn't always sit flush with the engagement ring. To resolve this issue, she advises wearing the wedding band on your left hand ring finger and the engagement ring on the right hand.
"Have fun and experiment with length and color," concludes Kiyomura. "Have one piece or type of jewelry as your focal point and don't over-do it. As Coco Chanel said, 'before you leave the house, look in the mirror and take one thing off.'"
All images courtesy Keyamour, jewelry is available on the Jewelers Circle Pro.
Authored by Amber Michelle