Queen Victoria Ascends the Throne, Queen Victoria Marries Prince Albert, Industrial Revolution Grows, Rising Middle Class, Charles Darwin and Charles Dickens defined the Romantic Years.
When: 1837-1901. Victoria ascended the throne on June 20, 1837 and was, at the time, the United Kingdom's (UK) longest reigning monarch when she died on January 21, 1901. Queen Victoria ruled for 63 years and 7 months. Her reign was known as the Victorian era and was subdivided into three periods, Romantic, Grand and Aesthetic, with each period triggered by major events. The Romantic Years, which will be covered in this blog, also known as the Early Years, runs from 1837 to 1861, with some historians noting the dates to be 1837 to 1860. While the Victorian era was specifically British, Queen Victoria's status and the reach of the British empire caused Victoriana to be a global influence. It is important to note that there were changes in jewelry styles during the 63 years that Victoria was on the throne. However, there were also certain motifs and themes that stayed throughout her reign. Styles did not drastically change as the years went by, instead they evolved over time. What that means is that you will see certain motifs or themes that will carry over from the different periods during Victoriana. This is often known as transitional jewelry.
Famous Makers: Makers were not generally named during the Early Years of the Victorian era, however, Mellerio, Boucheron and Garrard were named firms making jewelry . Queen Victoria appointed Garrard as the first Crown Jeweler supplying her with jewelry and caring for the crown jewels.
Motifs: Snakes, Flowers, Vines, Leaves, Hearts, Bows, Birds, Knots, Eyes, Hands, Anchors, Crosses, Buckles, Grapes
The Look: Ornate, decorated, colorful, large pieces, sentimental jewelry, anything with snakes
Materials: 18-karat Yellow or Rose gold, Rolled Gold (a gold sheet soldered to base metal), Gold Electroplate (a very thin sheet of gold soldered to base metal), Pinchbeck, Aluminum, Cut Steel, Diamond, Emerald, Amethyst, Chalcedony, Garnet, Chrysoberyl, Turquoise, Malachite, Topaz, Seed Pearls, Tortoise Shell, Ivory and Coral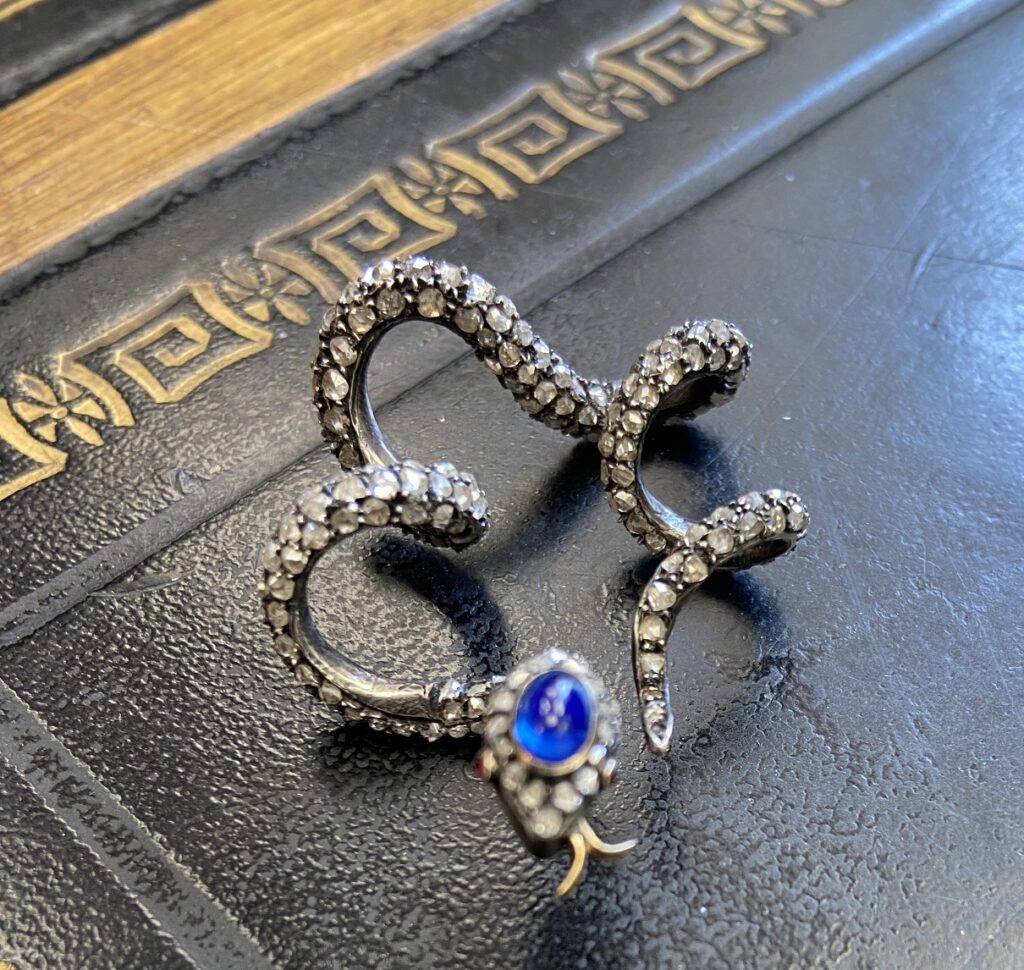 Queen Victoria ascended the throne when she was just 18 years old. Of course, it was expected that she would marry and the world watched as royal suitors courted the young queen. In 1840 she married Prince Albert, Saxe-Coburg-Gotha, of Germany who was her first cousin and what was most unusual for the times: It was a love match. It is important to remember that in this time period, royal and aristocratic marriages were often formed to solidify relations between nations or to form strategic alliances among the nobility. And there was the usual marry for money, status and land that was so common during that era. But Victoria and Albert were genuinely in love and their fairy-tale love story caught the fancy of not just the British, but the world as England was a major global power at the time. Their love story rang in an era of romantic love and family bliss that blossomed during the early years of Victoria's reign as the royal couple grew their family to nine children.
Concurrently, the industrial revolution was well underway and it was changing society by creating a middle class that had money to spend and they wanted jewelry. New manufacturing methods made it easier and less expensive to produce jewelry, making it more accessible to the growing middle class.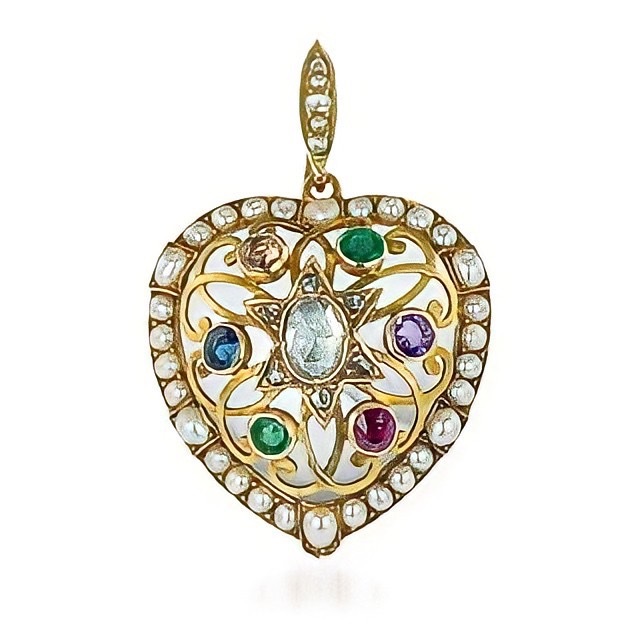 One of the most important motifs during the Victorian era were snakes. To commemorate their betrothal Prince Albert gave Queen Victoria a serpent engagement ring set with an emerald. Everyone wanted to copy the young queen's style. Snakes with their symbolism of eternity and wisdom became a popular theme in jewelry for many years.
Victorian's loved symbolism and sentimentality, which both converged in jewelry. Devotion or Acrostic jewelry became very popular. Generally this jewelry was in the form of a ring that held a row of stones that spelled out "regards" or "dearest" using the first letter of the stone — diamond, emerald, amethyst, ruby, emerald, sapphire and topaz, spelled out dearest. Pendants spelling out these sweet sentiments were also fashionable.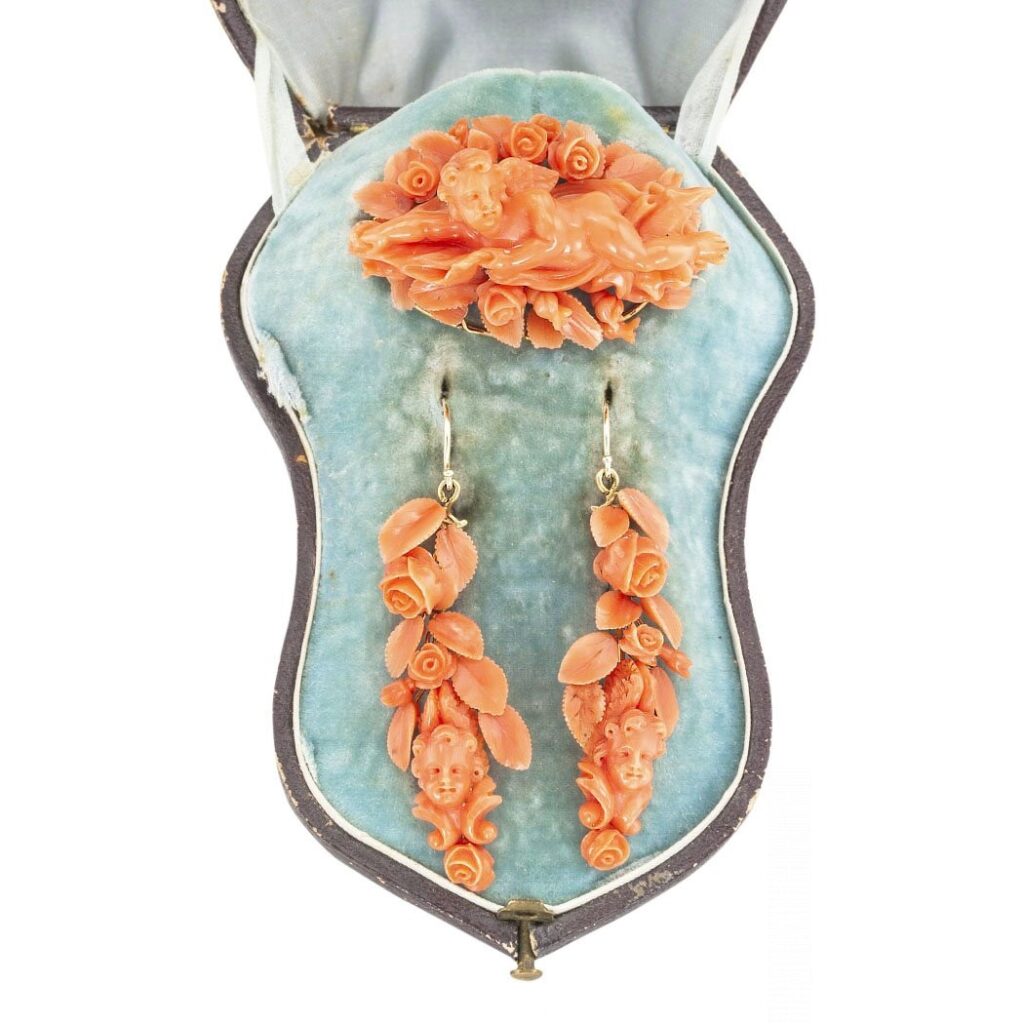 During the Romantic Years, Victorians layered and stacked rings and wore big brooches that often had a loop so they could be worn as a pendant. Brooches in oval and oblong shapes were preferred. In the Early Years, the clasp on brooches was long and went past the actual brooch and fastened in a "C" clasp. The Victorians favored large matching pairs of bracelets worn on the arms in the daytime and over gloves at night. Wearing hair jewelry was also very fashionable. Tiaras with naturalistic themes of leaves or flowers framed the face on special occasions.
Earrings were not worn much during the beginning of the Romantic Years because stylish women wore their hair parted in the middle with intricate updos that often covered the ears. The earrings that were worn were long or large chandelier type earrings, a continuation of the girandole styles of the Georgian era. Around 1850 hairstyles changed and ears were revealed. This led to a renewed interest in dainty earrings and small hoop styles, while long earrings remained stylish.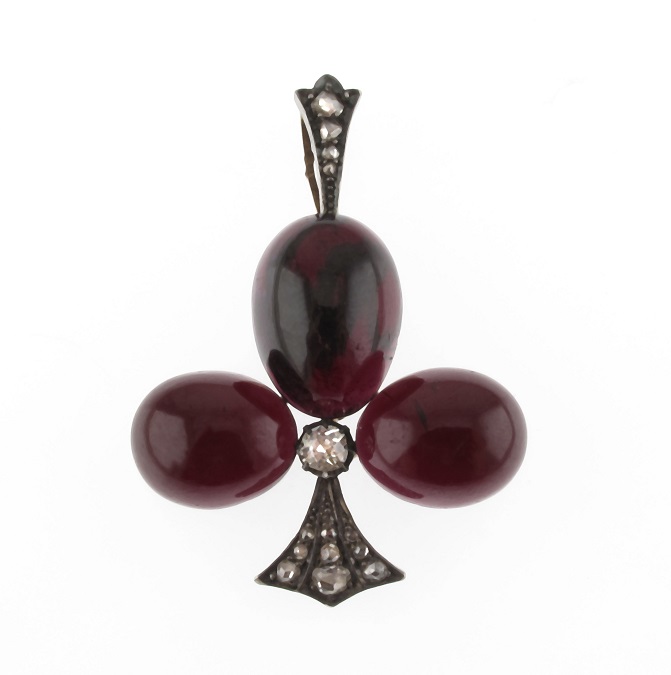 Necklaces were short and worn close to the throat in this era. Amethyst rivieres were important, pearls and coral beads were also popular. Long gold chains were in every well-dressed Victorian woman's jewelry box and were sometimes embellished with a watch. Pendants and lockets dangled from long chains or a ribbon. Trefoil necklaces — a style that has three round elements linked together — were also en vogue.
Queen Victoria loved cameos, which helped to increase their popularity. They were sometimes worn as a necklace, often on a ribbon that enhanced their romanticism. Cameos were everywhere, decorating not just necklaces, but bracelets and rings as well. Victorians travelled to "The Continent"(the rest of Europe) as a vacation, or as part of one's education. They often brought home cameos from their travels to Italy, which was a popular destination. Coral jewelry, often acquired during travels to Italy, was very popular in the first half of the 1800s. Coral beads, carved coral, coral parures (sets) and coral cameos were popular. Coral was also worn in its natural branch form to ward off evil, an ancient Italian tradition that the Victorians adopted.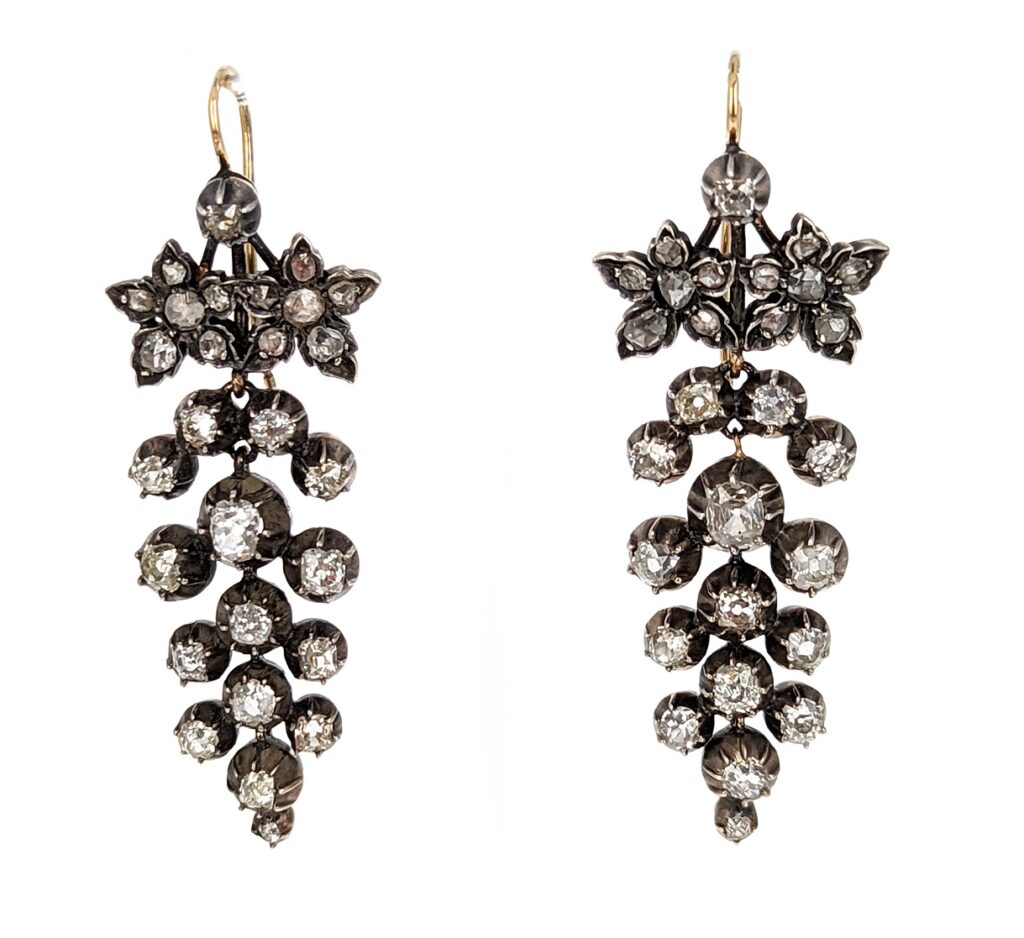 In 1852 Prince Albert gave Queen Victoria a major gift: Balmoral Castle. The couple had visited Scotland and became enamored with its natural beauty. They had a special wardrobe for their stays at Balmoral, which included Royal Stuart Tartan and of course the right jewelry was needed to accompany the clothes. The Queen began to wear jewelry made from agate that came from the area. Engraving and chasing on the metal was often used in the fabrication of these pieces.
Queen Victoria and Prince Albert had nine children together and were the epitome of idyllic Victorian life. But everything changed in 1861, when Victoria's mother died and a few months later her soulmate Albert passed away. His death forever changed the Queen and the romanticism of Victoria's early years ended as she began a life long period of mourning and the Romantic years morphed into the Grand Years.
Featured image (top of page): Floral themed diamond, silver and gold brooch, comes apart to form smaller brooches, circa 1850, courtesy Paul Fisher.
Authored by Amber Michelle