Scintillating pink diamonds were combined with a bakelite-type of plastic by artist Daniel Brush, creating a Bunny Bangle that is both charming and sophisticated. Thirty some years after it was first created, the Bunny Bangle remains an iconic jewel for its juxtaposition of humble plastic and Argyle pink diamonds some of the most precious of all gems. Therein lies the genius of Daniel Brush — the ability to shift an ordinary, unassuming material into something extraordinary. Brush passed away on November 26, 2022, but he leaves a legacy of work that will be admired forever.
Brush was one of those rare artists who managed to work in multiple mediums and created wonderous art whether it's a sculpture, painting, objets de vertu, or a precious jewel. Over the years he had plenty of recognition for his art. His work has been exhibited at the Smithsonian Institution, The Museum of Art and Design and is in the permanent collection of the Metropolitan Museum of Art. His art has also been shown at Christie's, Phillips de Pury and the L' Ècole des Arts Joailliers in Paris. All of these events happened despite Brush never having a dealer, or working the social circuit.
"Daniel Brush was an extraordinarily gifted artist, with a protean talent, a true polymath with a towering intellect and an irrepressible curiosity. We are all fortunate that he turned his talent, his artistry and breathtaking hand-craftsmanship to jewelry and jeweled objects. Unusually, probably uniquely, he seamlessly fused art and craft; he was both a poet and an engineer, a visionary and an artisan," said Vivienne Becker, author of the book, Daniel Brush: Jewels Sculpture, published by Rizzoli.
For over 50 years, Brush has been a force to be reckoned with in the art world. As a jeweler, he wanted — and asked — us to rethink the definition of jewelry and going one step further he showed us how to redefine jewelry. Brush was known for mixing elements that were high – such as rose cut diamonds or vibrant antique rubies with materials that were more accessible like stainless steel, or aluminum.
"Daniel's works reflect the soul of their maker. Creative and prolific, themes and subject matters are diverse, but all are united by a fierce intellectuality and beauty of strength," commented Francois Curiel, Chairman, Europe, Christie's. "Brilliantly unorthodox, he was one of the earliest to pair aluminum with gold, which became a signature combination. He would later expand his repertoire with aerospace earth magnets and other unusual materials developed by NASA, to perfect the iconic aesthetic that is uniquely his."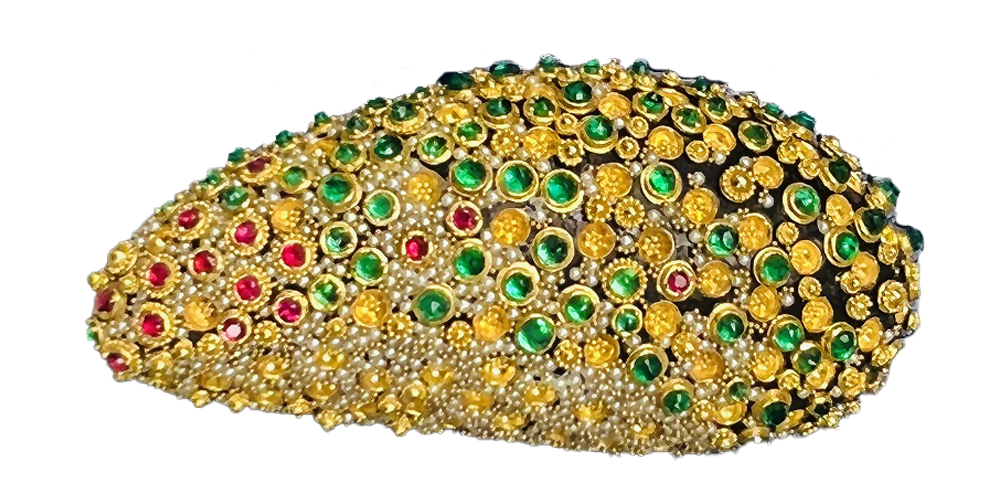 Brush first became interested in metalwork when he went to the Cleveland Museum of Art as a child and saw the armor displays. A trip to the Victoria & Albert Museum in London introduced him to granulation, a goldsmithing technique that attaches tiny gold spheres to a gold base creating a pattern or design. He was intrigued by granulation and determined that he would someday create using the technique… and he did.
Growing up in Cleveland, where his parents owned a children's clothing store, he began taking art classes. He attended art school at the Carnegie Institute of Technology, where he met his wife and muse, Olivia. He later became an assistant professor of art at Georgetown University in Washington, D.C. At the same time his paintings were being shown in museums and galleries in the area. In 1978 he and Olivia, moved to a loft in the Flatiron district of New York City.
"He was a very formidable intellect. Trying to keep up with his train of thought was challenging," says jewelry journalist Ettagale Blauer who visited and interviewed Brush in his loft, that was formerly a garment factory. "He was obsessed, very serious and devoted to his work. He would accept nothing but the very best no matter how long it took. He created an environment for he and his wife where he could work in complete isolation with no economic pressure."
For the past five decades Brush has dedicated himself to his art. He lived a disciplined life that allowed him to put his creative spirit first. He ate the same thing for breakfast and lunch everyday so that he wouldn't have to think about what to eat, freeing his mind to create. He also swept the floors of his loft every morning, often for hours, until the muse came to him. To fuel his creativity even further, he didn't leave the house for days, months even years. The lack of distractions allowed his creativity to blossom.
 "I was lucky enough to spend time with Daniel and his wife and muse, Olivia, as we worked on his book together. He opened up a whole new vista for me, challenging preconceptions, questioning, questing, exploring the meanings and messages of jewelry, its role through history and its relevance today.  Perhaps most fascinating of all, he had the rare ability to create jewels and objects of sublime, otherworldly beauty, with both a profound inner meaning and a childlike joyfulness, jewels of both wit and wonder," concludes Becker. "He was a fascinating, captivating character, and he will be hugely missed. I miss him so much already. How much more would he have told and taught me? We, in the jewelry world, will probably only now begin to realize how much we owe Daniel Brush, and his undoubted genius. As one of his pupils wrote to me, how will we live in a world without Daniel?"
Featured image (top of page): Pink diamond, ruby, engraved bakelite-type plastic and gold Bunny Bangle by Daniel Brush. © Christie's Images Limited 2009.
Authored by Amber Michelle