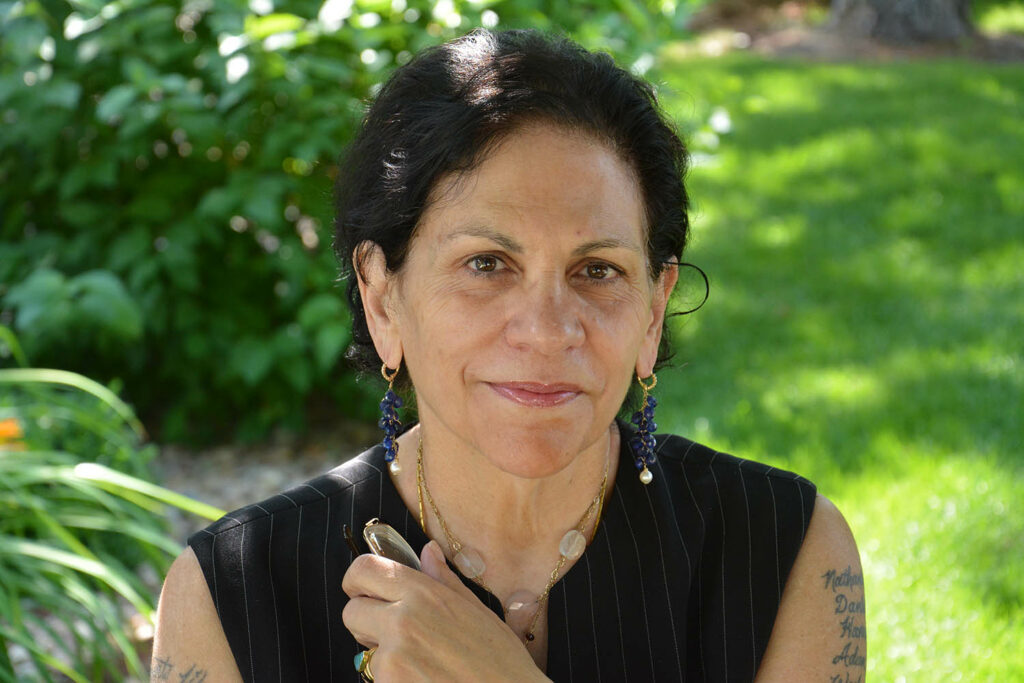 When Linda M Kozloff-Turner started to write the book 100 Women of Jewelry, it wasn't so much that she had decided to write a book, it was more like the book had asked to be written. A jewelry designer and bench jeweler herself, working in Boulder, Colorado, Kozloff-Turner was facing certain business situations — such as being paid less than men, being asked to knock-off someone else's work and more — and she began to wonder if other women were facing the same issues (yes). Kozloff-Turner is a bit of a Jacqueline-of-all-trades, she holds a BA in Industrial Product Design from Metropolitan State University of Denver, she attended the University of Colorado, Boulder where she earned a Master of Fine Arts, Photography and most recently she received her Graduate Gemologist degree from the Gemological Institute of America. She is also the owner and lead designer for her jewelry firm, Christine Marguerite Designs. Her passion for jewelry started when she was just three years old; she would go through a dresser drawer in her family home filled with costume jewelry examining the pieces and imagining the people who wore them. During a phone interview, Kozloff-Turner talked about the inspiration for the two-volume book and how writing it inspired her.
What inspired you to write the book and why did you go with the number 100?
When I started this book, I was the only female bench jeweler in Boulder. I was experiencing and feeling a lot of things and I wondered if other women were feeling the same thing. In March of 2015, I was given a podcast as a birthday present. As I was listening to the podcast, the guest said that if you really want to know about an industry, interview people who work in that industry. Then one morning when I woke up I had a vision and the idea for the book came to me in one fell swoop, every detail was there, including interviewing and telling the stories of 100 women who make jewelry. Choosing to interview 100 women was more of an artistic decision than a rational one. If it had been a rational decision, I would have probably picked another number. Jewelry is a talismanic memento of the artists journey and the true treasure here is each and every woman.
How long did it take you to write 100 Women of Jewelry?
It took seven years, but only because I have a lot of courage. I had no idea what I was doing and I did it backwards and wrong. I planned a trip to New York and put together my wardrobe to go see some designers in their studios and then when I got there, I found out that many of them worked from home. I did my very first interview for the book in my pajamas from an Air BNB. Then I had to find the artists, I was running my own business, I had my own life and then Covid hit. In the big picture seven years to create this masterpiece is nada. Everything good takes time. I'm like an Italian shoemaker — one stitch at a time.
How did you find the designers?
When the idea came to write the book, I didn't know where to start. I didn't know any women designers. I have two colleagues in Boulder, so I started with them. In 2016, I did a Google search for women designers. David Yurman and John Hardy came up along with jewelry lines for women designed by men. I did more digging and I found Lisa Jenks. I asked myself 'who is this woman whose jewelry had people standing in line in 1999 and 2000 to get a piece of her work?' I also got referrals. After every interview I asked the designer who she thought should be included in the book. I wanted diversity of culture, style and age.
You built a community of women artists. How does this help everyone?
This community was an unexpected tangent. I was invited to the Couture show and was introduced to many women. They started to follow each other and to contact each other to give each other support. I know every artist and I'm part of the community, but the women created the community themselves.
What was the biggest challenge of producing 100 Women of Jewelry?
First, I had to find the artists. Then because I was working on the book for seven years people's lives changed. People had children, children grew up, so I had to rewrite and update the book. In March of 2020 I was meeting some designers and then Covid hit. I had interviewed 60 women by then. I finished the last interviews on Zoom. The last challenge was the concept of self-publishing. I went to agents and publishers and they kept asking me to go in a different direction. These are the stories of the women I interviewed and I really had to put my foot down to keep it that way.
Why did you choose to donate some of the proceeds from the book to the Women's Jewelry Association (WJA), Fashion Institute of Technology (FIT) and Gemological Institute of America (GIA)?
In 2016, Frank Stankus (who is the book's editor), wrote a tribute to his late wife Cindy Edelstein and he asked me to donate to the WJA on her behalf. Then I happened to run into Steven Fishman, who lost his wife, Yupadee Kobkulboonsiri, a professor at FIT, so I decided to donate there. She was a phenomenal jewelry artist. I am grant recipient from GIA, I got several grants to pursue my Graduate Gemologist degree. I try to give back to the places in my life that have helped me.
What is the future for women jewelry designers?
The future is equal, that's what we want. We're not superseding anyone. When one person succeeds we all succeed.
Featured image (top of page): 100 Women of Jewelry, book cover, volume 1.
Authored by Amber Michelle
Order your copy of 100 Women of Jewelry here: www.womenofjewelry.com