Talent often shows itself at an early age and that's how it was with Jean Schlumberger. Born in Alsace, France in 1907, Schlumberger was an avid sketcher as a child, an endeavor that his parents, who were in the textile trade, discouraged. Instead, as a young man they shipped him off to Berlin to start a banking career. Luckily for jewelry enthusiasts, Schlumberger wanted nothing to do with banking so he took off for Paris where he was free to pursue his creative ventures and where he opened an atelier on rue de la Boetie.
Schlumberger's really big break came in 1937 when fashion designer Elsa Schiaparelli asked him to make buttons for some of her clothes. He also designed a collection of costume jewelry for the fashion maven, both of which were very well received. Soon after his Schiaparelli project, World War II was ravaging Europe and Schlumberger joined the French army. After the war, he moved to New York City and was working in fashion when he set up a salon with his business partner, Nicolas Bongard.
Schlumberger Joins Tiffany & Co.
The year 1956 was pivotal for Schlumberger. That's when he got the best offer of his career: An invitation from Tiffany & Co. chair, Walter Hoving , who asked him to join the retailer as a jewelry designer and vice president. Notably, Schlumberger is one of only four designers that Tiffany & Co. has allowed to sign their work, the other three are Elsa Peretti, Paloma Picasso and Frank Gehry.
Joining Tiffany & Co. was  creative heaven for Schlumberger who now had the power of the jewelry firm behind him and unlimited access to colored gemstones and diamonds bringing him even more creative freedom. Schlumberger was inspired by nature from sea creatures to birds and flowers, often seen on his travels to Bali, Asia and the Caribbean.  With his family background in textiles, ropes, tassels and ribbons found their way into his designs as well.  Schlumberger jewelry was big, bold, colorful and often witty. He liked the imperfection of nature and once stated, "I try to make everything look as if it were growing, uneven, at random, organic, in motion."
Schlumberger and the "Jackie Bracelets"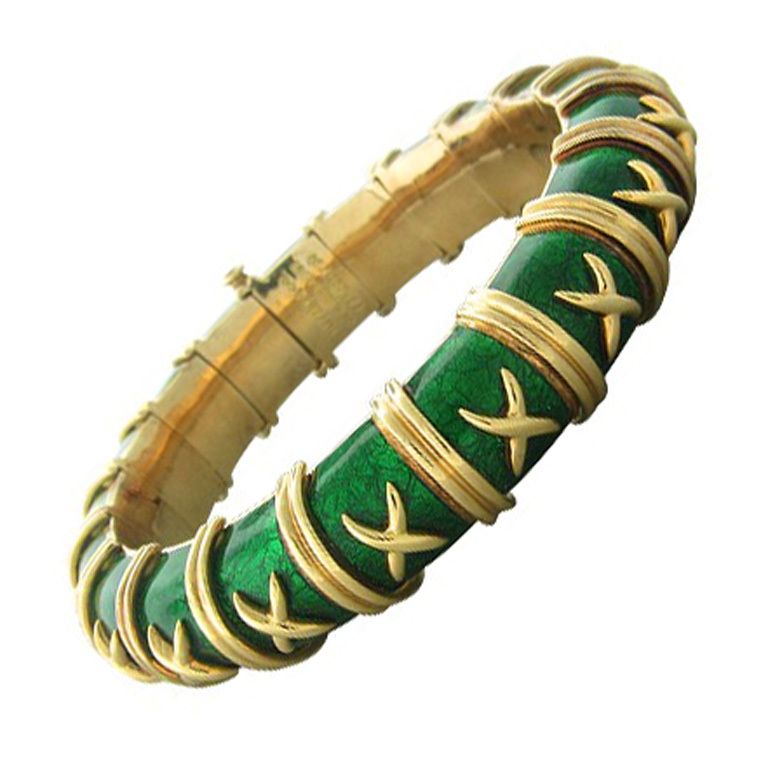 While at Tiffany & Co., Schlumberger grew an impressive client list that included actors Audrey Hepburn and Elizabeth Taylor as well as socialites Babe Paley and Rachel Mellon. But one of the clients who brought him an enormous amount of publicity and recognition was First Lady Jackie Kennedy. Kennedy was known for wearing the colorful enamel Croisillon bracelets that Schlumberger designed, so much so that the press dubbed them the "Jackie Bracelets". The Croisillon is one of Schlumberger's best known designs. The bracelets use paillonné a special enameling technique that was popular in the 1800s. It involves repeatedly applying layers of translucent colored enamel over very thin sheets of gold or silver resulting in particularly vivid colors and a high-intensity shine. They held immense appeal for women of that era who were looking for less formal jewelry to wear during the day.
Schlumberger and the Tiffany Diamond
One of Schlumberger's most important projects at Tiffany & Co. and one of the first projects he tackled upon arriving, was mounting the 128.54-carat Tiffany Diamond. He created the Ribbon Rosette necklace for the iconic diamond, which was worn by Audrey Hepburn for the "Breakfast at Tiffany" movie press tour. In 1995 the sparkler was re-set in another of Schlumberger's iconic creations: Bird on a Rock. The design features a jeweled bird sitting on the eponymous diamond. The Bird on a Rock design continues to be a favorite, with the bird perched on citrine, aquamarine, or even a pearl.
Another movie star also brought more attention to Schlumberger's work, this time it was Elizabeth Taylor. In 1964, prior to the opening night of Richard Burton's film "Night of the Iguana"  he gifted Taylor one of the designer's dolphin brooches. She wore it frequently and was often photographed wearing the brooch, which sent it spiraling to star status and it became known as the "Night of the Iguana" brooch.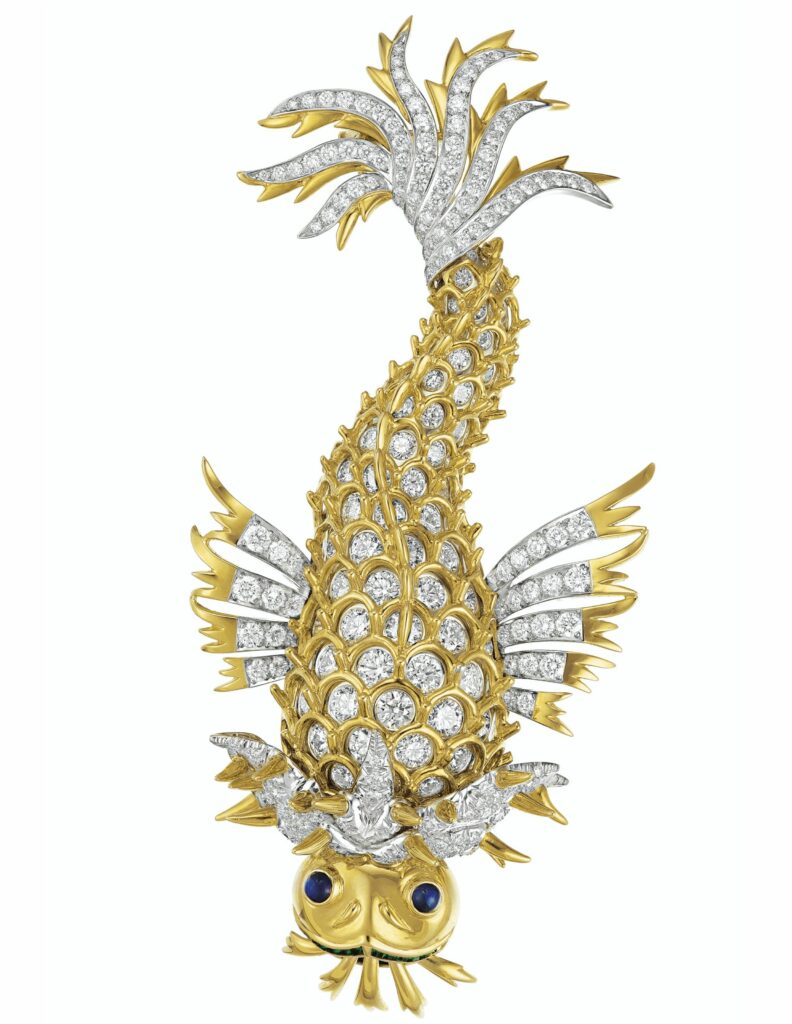 Schlumberger Becomes a Chevalier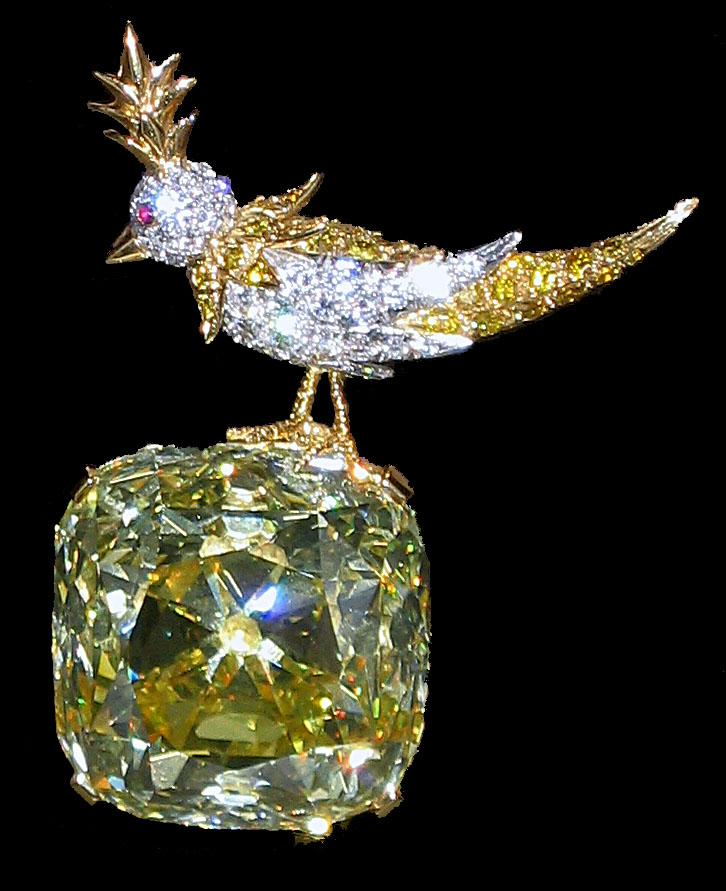 During his career, Schlumberger was the recipient of many accolades. In 1958 he won the Fashion Critic's Coty Award. In 1977, the French government made him a Chevalier (Knight) of the National Order of Merit. In 1995 the Musee des Arts Decoratifs in Paris held a retrospective of Schlumberger's work entitled "Un Diamante dans la Ville". It was only the third time that the museum held an exhibit of a jewelry designer's work. The Tiffany Diamond was redesigned as the Bird on a Rock for the occasion. If you really want to immerse yourself in the designer's work, Paul and Rachel Mellon donated the biggest collection of Schlumberger objects anywhere to the Virginia Museum of Fine Arts permanent collection.
The designer's work lives on at Tiffany & Co. today where skilled artisans continue to fabricate the wonderous creations that have captivated the attention of some of the world's most stylish people.
Featured image (top of page): Jean Schlumberger
Authored by Amber Michelle