Enthralled by the Metropolitan Museum of Art, jewelry designer David Webb was inspired by rare books, regency furniture, art galleries and New York City. In the recently released coffee table book, The Art of David Webb: Jewelry and Culture, published by Rizzoli, author Ruth Peltason explores the influence of other artists, culture and fashion on David Webb and his jewelry designs.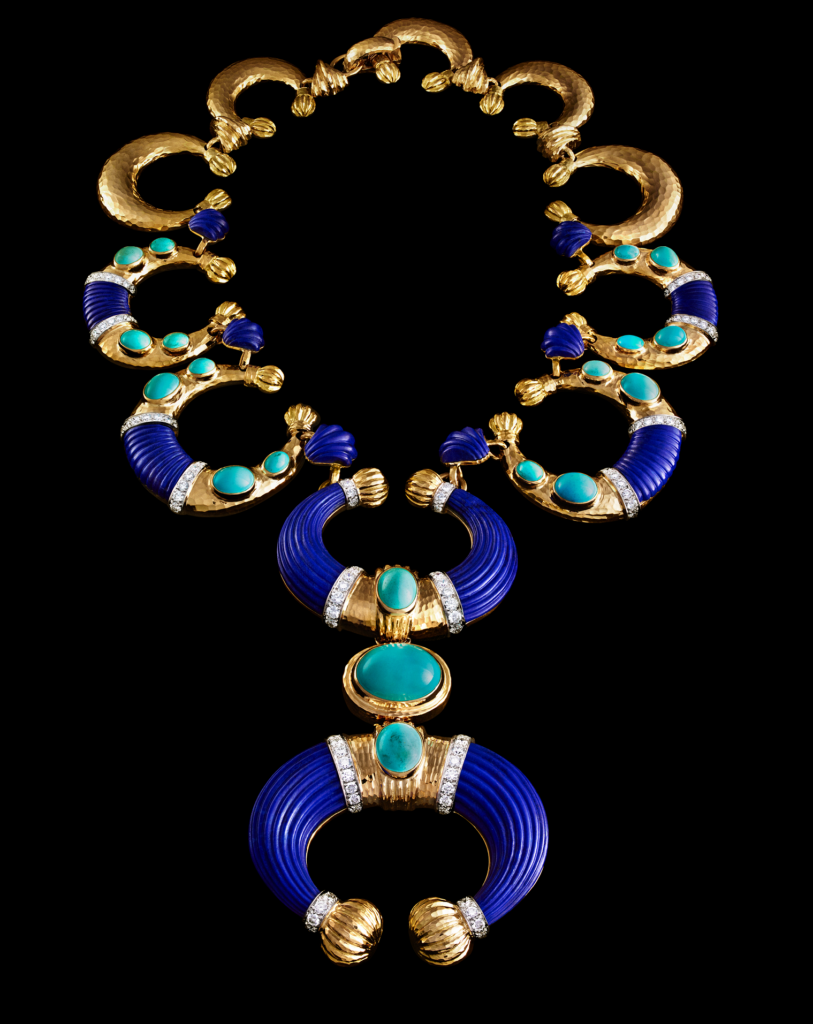 Webb's jewelry was intended to make a difference in the wider world of art. And the book, which is divided into four sections, looks closely at David Webb jewelry and draws parallels between the jewels and various artists, time periods and fashion. Peltason, who also authored the book, David Webb: The Quintessential American Jeweler, defines what jewelry as art means. She states that it starts with an idea, but then it must be perfectly crafted. She goes on to explain that the artisans in Webb's workshop have been there creating for many years. One artisan and his son are the only two people who have ever made the highly desired zebra and giraffe bracelets that helped put Webb on the map. Another artisan carves lapis, while another hammers gold, each artisan an expert in their craft. And throughout the process, each piece is inspected for quality by the shop foreman. "This explains why so much of the jewelry is unique and consistent in quality. Like any creative performance, all three elements must, and do, work in concert: the design, the materials, and the fabrication of the jewelry. It is the sum of these parts that results in the artistry of the jewelry. This is jewelry as art," observes Peltason, who notes that scale and size are important hallmarks of Webb's designs.
David Webb's Zoo
Throughout the book, Webb's jewels are compared to paintings, photographs, textiles and other media, by various artists, with the jewels juxtaposed against their work, with many of the pieces photographed by Ilan Rubin. The first chapter, Nature's World, looks at Webb's jewels that are inspired by flowers and animals. Webb is well known for building a bestiary of fanciful creatures that boast fierce expressions and a bold attitude.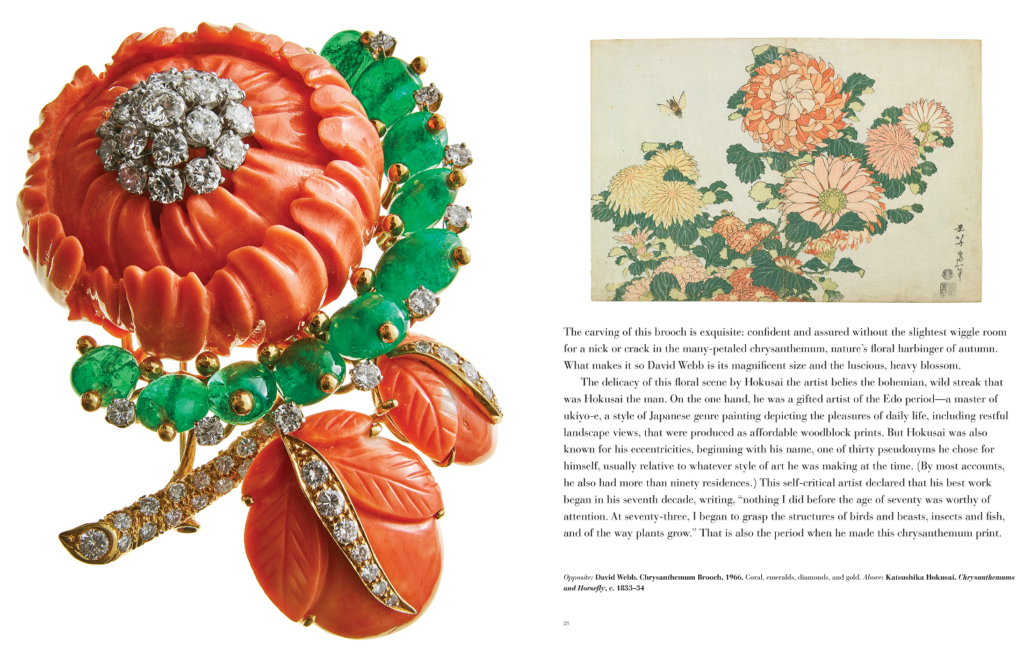 The next chapter, Ancient Cultures, travels through time to China, Japan, Iran, Turkey, Greece, Italy, Egypt, Africa and South America, while delving into Webb's fascination with other cultures and how it influenced his designs. This chapter also details Webb's love affair with gold. According to Peltason, Webb was intrigued with the yellow metal and how it could be patinated and textured. His use of jade and gemstone carvings are further explored in this chapter.
The City and Fashion
City of Lights, takes a look at how Manhattan influenced David Webb, who arrived in New York City from Asheville, North Carolina, when he was just 17 years old. He had an innate understanding of architecture and form that influenced the structure of his jewelry. This chapter looks at Webb's work through the lens of modernist art and the use of geometric abstractions and primary colors. It is filled with cultural references to the early 20th century and is an expression of Webb's bedazzlement with New York City. Webb also referenced Art Deco design in his creations that are featured in this section of the book.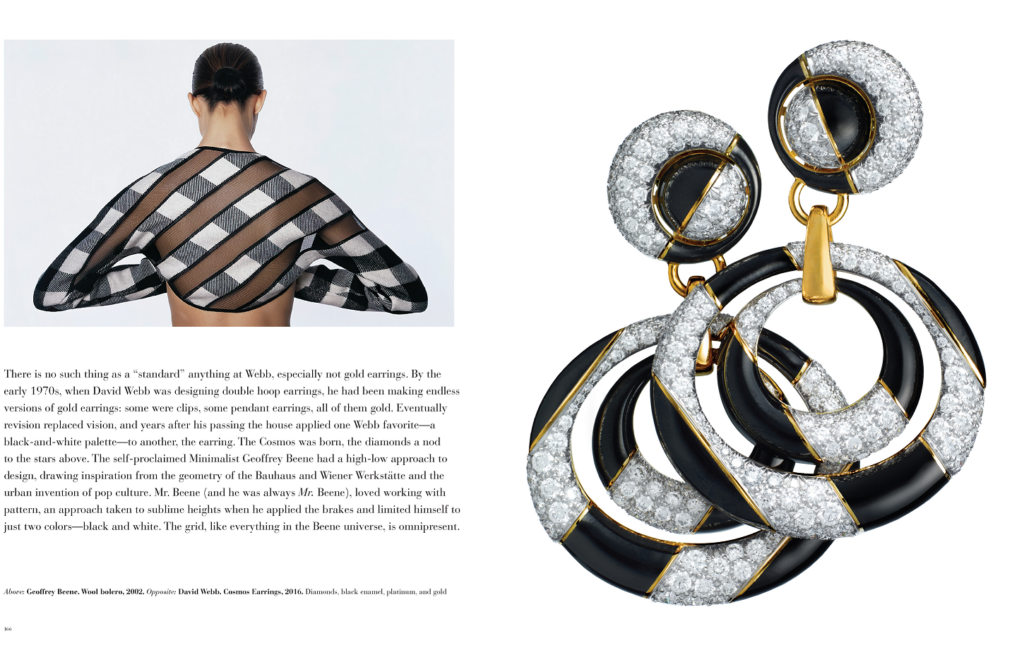 The last chapter, The Fashionable Jewel, looks at the relationship between Webb's jewelry and fashion. In his jewelry, David Webb created what the world was looking for with his bold, colorful pieces. Magazine editors wanted jewelry to pop off the pages so readers could see the pieces, Webb's jewels did just that and more. Webb's jewelry struck a chord with women who were searching for colorful, bold signature pieces that could just as easily be worn in the daytime as at night. He recognized that structure and color were necessary elements of good design and Webb's jewels had all of that along with the cachet of being hand-made and a youthful vibrance that was so important during the mid 20th century when he was designing.  A quote from Webb in the introduction of the book sums up his philosophy about jewelry, "Jewels though more personal than paintings, should be treated as great works of art, which they surely are."
Featured image (top of page): Cover of The Art of David Webb: Jewelry and Culture, by Ruth Peltason, published by Rizzoli©.
Authored by Amber Michelle