The date was September 12, 1953 and the event was the wedding of Jacqueline Lee Bouvier to John F. Kennedy. It was the union of two people who became one of the world's most powerful couples in 1960 when John Kennedy was elected President of the United States, elevating his wife, Jackie, to First Lady status.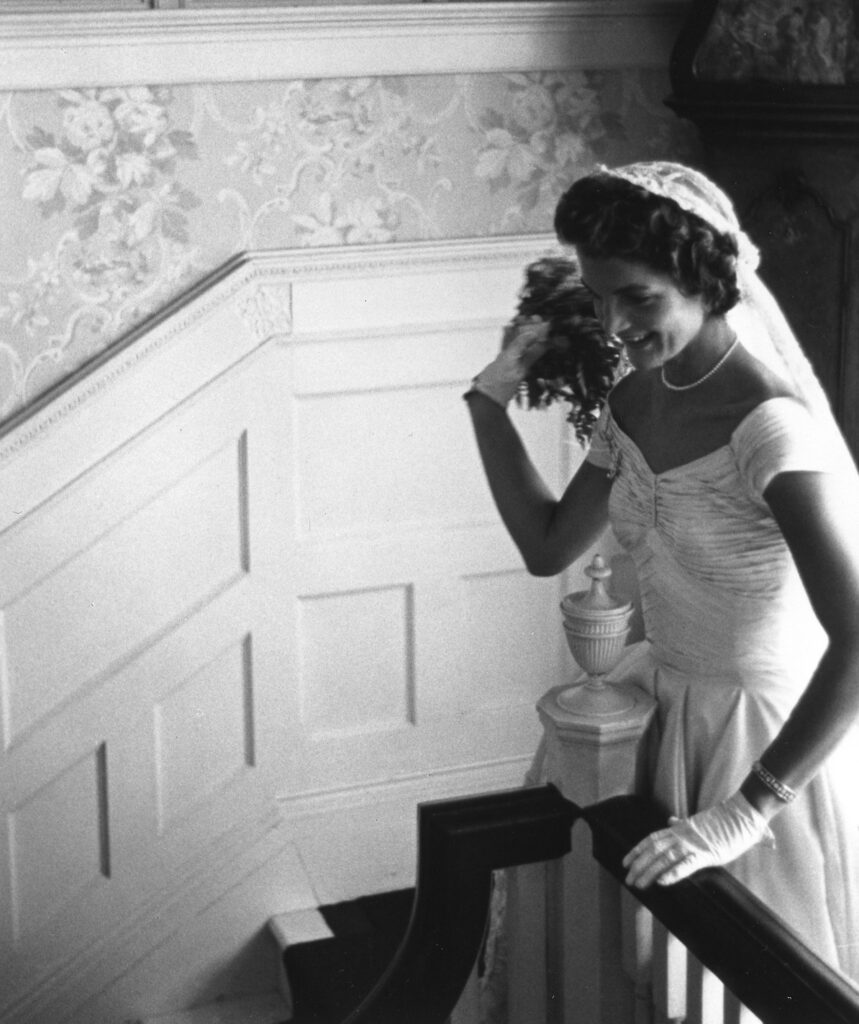 When the pair became engaged in June 1953, they had looked at numerous rings before choosing an emerald and diamond ring from Van Cleef & Arpels. Jackie later had the ring redesigned adding a surround of marquise diamonds that wrapped part way around the central diamond and emerald like a laurel wreath. On her wedding day, Jack gifted Jackie a bangle with alternating pearls and diamonds with a wire twist rope frame. She wore the bangle on her wedding day along with a single strand of choker length pearls.
Jacqueline Bouvier Kennedy with bouquet on her wedding day, September 12, 1953, photographed by Toni Frissell, courtesy John F. Kennedy Presidential Library and Museum, Boston.
Pearls and More Pearls
Jackie Kennedy was wildly popular. She was intelligent, beautiful, cultured and sophisticated with a glamorous chicness that set her apart from previous first ladies. Jackie wore fashionable clothes and brought style to her role in a way that had not been seen in the White House before her arrival. She wore clothes from designers Givenchy, Dior and Balenciaga and when she was criticized for wearing European designers, she turned to American fashion designer Oleg Cassini to be her official courtier and her style was soon imitated by pretty much everyone.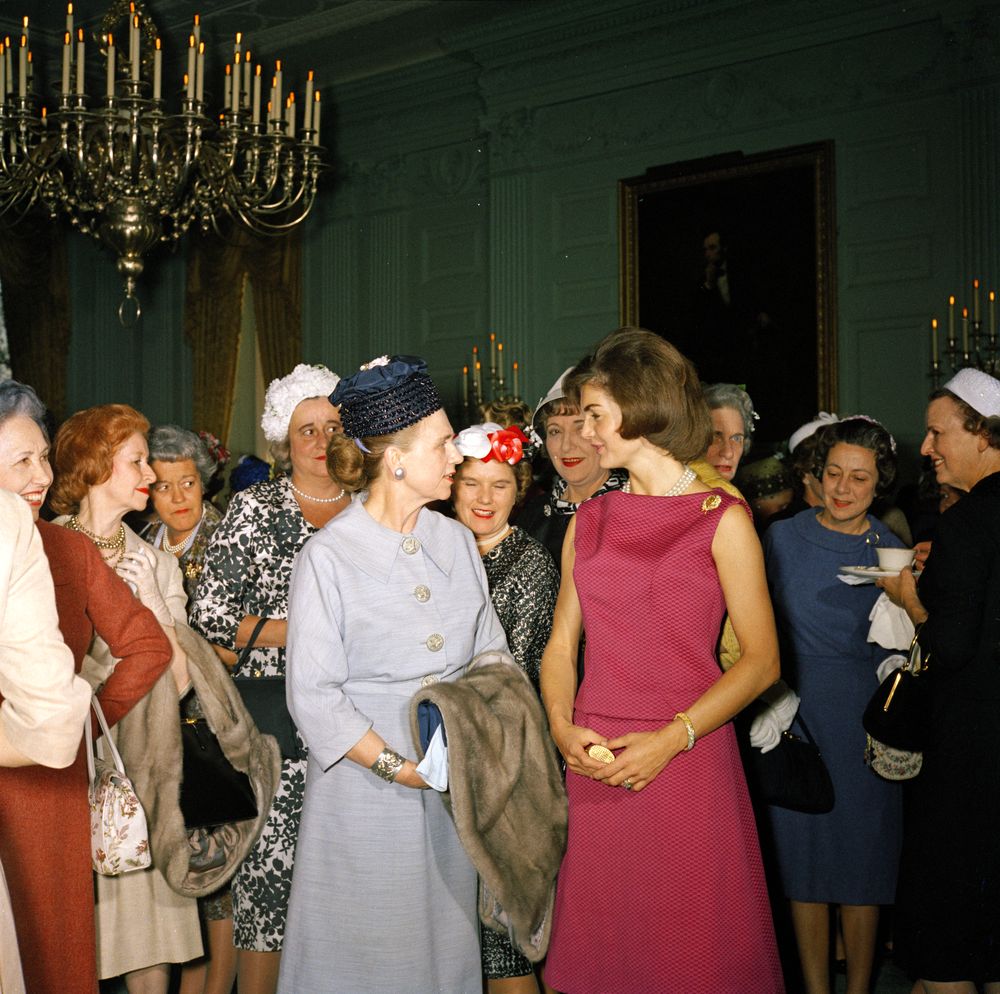 Jackie also had a way with jewels. It wasn't so much that she had a large jewelry collection, which she did, it was more the way that Jackie wore those jewels that was notable. For starters she was very restrained in the way that she wore her jewelry, often opting for one or two pieces, earrings and a brooch or bangle.
As First Lady and after that time as well, Jackie frequently turned to pearls to accessorize her outfits. A simple single or three strand necklace of pearls was a signature. She wore them with her designer clothes and other jewelry items, the caveat: it turns out that her pearls were faux. What really matters isn't so much that the pearls were faux, but the very specific way in which she wore them. During the day Jackie often tucked the pearls into the neckline of her dress or coat, so that only part of the strand showed, it gave her outfit a finished and important look while at the same time keeping the focus on her. Also, because the pearls were faux, they were attainable by women who had an average income, which made the look that much more approachable.
American Jewelry Designers
In 1962, Jack gave Jackie another jewelry gift. This time it was a Croisillon bangle by Schlumberger for Tiffany & Co. Over the years she purchased more of the enameled bracelets in different hues. Jackie was well known for wearing the colorful enamel Croisillon bracelets that Schlumberger designed, so much so that the press dubbed them the "Jackie Bracelet". The bracelets held immense appeal for women of that era who were looking for less formal jewelry to wear during the day. And Jackie was a leading lady for that trend.
Jackie was also instrumental in fueling the rise of another important American jewelry designer: David Webb. In 1962 Jackie, commissioned Webb to make the official gifts of state for visiting dignitaries: Paperweights featuring American minerals.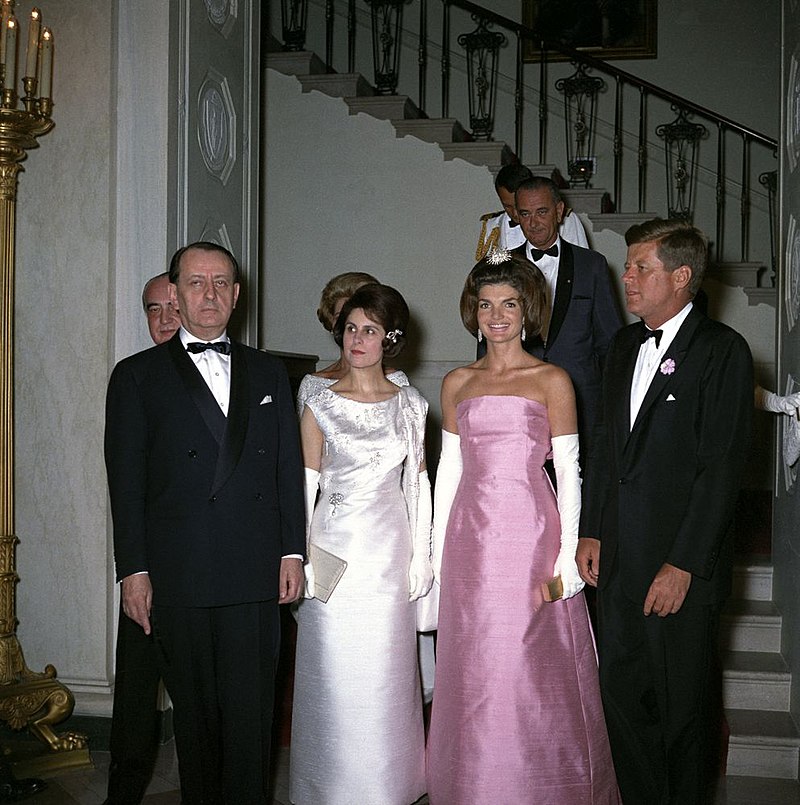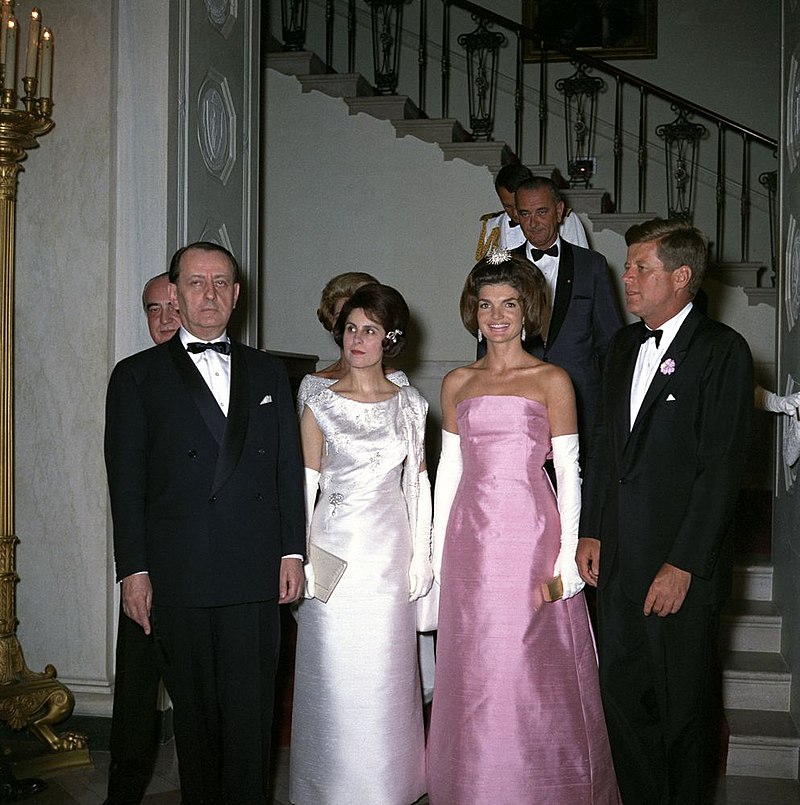 Brooches were another favorite of Jackie's. She often wore them pinned to a coat, jacket, or dress. She clipped diamond brooches on her pearls taking them from ordinary to extraordinary. But her most notable brooch was the diamond sunburst brooch that she came across in London in 1962. It came with a rather hefty price tag and the story goes that Jackie sold a brooch given to her on her wedding day by her in-laws, Joe and Rose Kennedy, to finance the purchase of the sparkling jewel. As usual, Jackie made the brooch her own by wearing it in her hair, perching it on her head as if it was a mini tiara, elegant and glamourous at the same time, enhancing her look, but not overpowering her.
After Jackie's death, much of her jewelry was sold during her estate sale at Sotheby's in 1996. Other pieces are in the private collection of family members and still others are part of the collection at the John F. Kennedy Presidential Library and Museum in Boston.
Featured image (top of page): Jacqueline Bouvier Kennedy and John F. Kennedy cut their wedding cake during their reception at Hammersmith Farm. Also pictured: Ethel Skakel Kennedy. Newport, Rhode Island, September 12, 1953, Toni Frissell, courtesy John F. Kennedy Presidential Library and Museum, Boston.
Authored by Amber Michelle